Looking for a sweet treat to whip up during your spring break? Try these mini peanut butter cups! They're delicious yet small enough to help you better control your portion size. Best of all, they make for an excellent use of your NatureBox Dark Cocoa Almonds.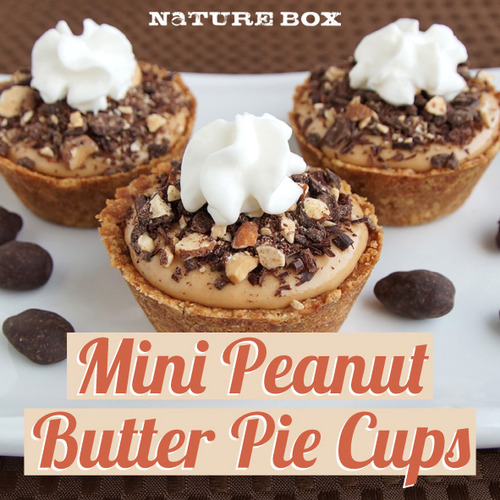 Yield: 4 pie cups
Cook time: 20 minutes
Ingredients:
Pie Crust Cups:
1-1/2 cups ground graham crackers
2 tablespoons egg whites (or from 1 egg)
2 tablespoons granulated sugar
2 tablespoons unsalted butter
Filling:
4 ounces light cream cheese
1/2 cup confectioners' sugar
1/2 teaspoon vanilla extract
1/2 cup smooth peanut butter
1/3 cup non-fat milk
1/2 cup light whipped topping, thawed
Topping:
Directions:
Pie Crust Cups:
1. Preheat the oven to 325 degrees F.
2. Add ground graham crackers, egg whites and granulated sugar to a mixing bowl. Melt butter in a small dish and add to the graham cracker mixture. Stir all of the ingredients together with a spoon until evenly wet.
3. Use the remaining butter in the dish to grease 4 cups in a muffin pan with your finger. Evenly distribute the graham cracker crust mixture to each of the 4 cups, and press down firmly with a spoon on the bottom and along the sides. Chill in the refrigerator for 20 minutes.
4. Bake the cups until set, about 20 minutes. Remove from the oven and cool for 15 minutes on the stovetop. Use a butterknife to carefully loosen and remove each cup from the muffin pan.
Filling:
1. Add the cream cheese, confectioners' sugar and vanilla extract to a stand mixer with paddle attachment, or to a large mixing bowl and beat on medium speed until well-combined, about 4 minutes.
2. Add the peanut butter and milk and continue beating on medium speed until smooth, about 2 minutes.
3. Add the whipped topping and beat on low until just combined. Place in the refrigerator to chill for at least 15 minutes before adding to the Pie Crust Cups. Once chilled, use a spoon to add the filling to the graham cracker cups.
4. Coarsely grind the NatureBox Dark Cocoa Almonds in a food processor and sprinkle over the tops of each pie. Chill 1 hour before serving for best results.
Tip: Use a food processor to grind up the graham crackers. You can freeze the mini pies and set them out to defrost for 30 minutes before serving.
Pics or it didn't happen! When you whip up this recipe, post it on Instagram or Facebook with the hashtag #natureboxrecipe so we can like and reshare it!
Get more healthy ideas and delicious snacks by joining NatureBox. Sign up today to get 50% off your first box!