We're dishing up different ideas for St. Patrick's Day, which is just around the corner. What better way to celebrate than with these lovely mini shepherd's pies? For a little treat, we like using ground lamb, but you can substitute that for ground beef or one pound of your favorite finely diced vegetables.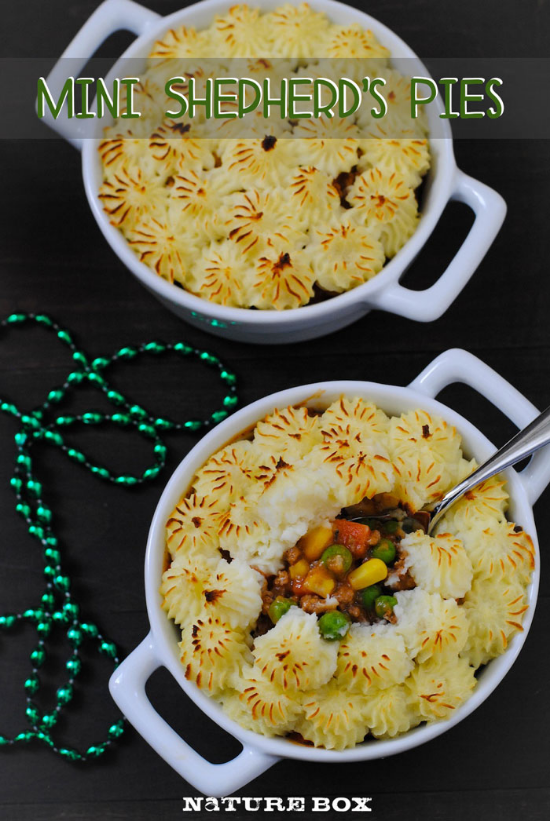 Serves: 4
Prep Time: 30 minutes
Bake Time: 20 minutes
Ingredients:
Mashed Potatoes:
1-1/2 pounds Russet potatoes, peeled and cut into 1-inch cubes
1 egg yolk
1/4 cup milk
2 tablespoons Greek yogurt
Shepherd's Pie Filling:
1 tablespoon olive oil
3/4 pound ground lamb or ground beef
3 carrots, peeled and cut into 1/2-inch cubes
1 garlic clove, minced
1/4 teaspoon kosher salt
1/4 teaspoon ground black pepper
1-1/2 tablespoons all-purpose flour
1 tablespoon tomato paste
1-1/2 cups beef broth
2 teaspoons Worcestershire sauce
1 teaspoon chopped fresh thyme leaves
3/4 cup frozen pearl onions
1/2 cup frozen corn kernels
1/2 cup frozen green peas
Directions:
1. Make Mashed Potatoes: Place potatoes in large pot and cover with cold water. Generously season with salt; heat to boiling over medium-high heat. Simmer 10 to 12 minutes or until potatoes are tender. Drain potatoes and return to pot; let cool slightly. Add egg yolk, milk and yogurt; use potato masher to mash and combine.
2. Meanwhile, make Shepherd's Pie Filling: Preheat oven to 400 degrees F. Heat oil in large high-sided skillet over medium-high heat. Add lamb; cook 4 minutes, stirring occasionally and breaking up meat with side of spoon. Add carrots and garlic; cook 4 to 6 minutes or until lamb is cooked through, stirring occasionally. Spoon off and discard any excess fat.
3. Stir in flour and tomato paste; cook 1 minute, stirring constantly. Stir in broth, Worcestershire and thyme; heat to boiling over medium-high heat. Reduce to medium-low; simmer 5 minutes or until mixture is thickened, stirring occasionally. Remove from heat; stir in onions, peas and corn.
4. Divide lamb mixture between 4 mini casserole dishes. Use a piping bag to pipe mashed potatoes over lamb mixture (or use a spoon to spread potatoes over). Bake 20 to 25 minutes or until potatoes are golden brown.
Pics or it didn't happen! When you whip up this recipe, post it on Instagram or Facebook with the hashtag #natureboxrecipe so we can like and reshare it!
Get more healthy ideas and delicious snacks by joining NatureBox. Sign up today to get 50% off your first box!