from the NatureBox Kitchen
Makes 24 mini frittatas

These mini veggie frittatas are an egg-cellent way to use up leftover veggies and they're perfect for a quick breakfast, lunch, OR dinner! They can be whipped up using virtually any ingredients you have on hand (below is one of our favorites) and would be fun for the kids to help out with as well.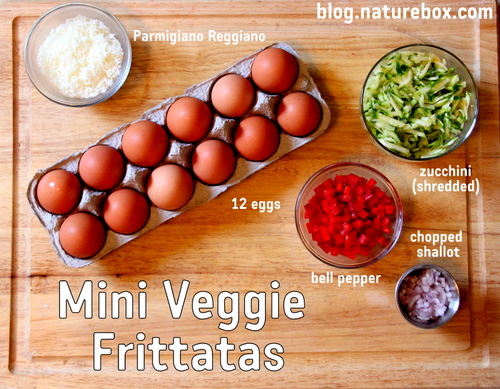 Ingredients:
12 eggs
1/2 cup diced bell pepper (~1 bell pepper)
1 cup shredded zucchini (1-2 zucchinis, depending on their size)
1/4 cup finely diced shallot
1/2 cup water or milk
1/2 cup Parmigiano Reggiano cheese, shredded (or any hard cheese)
salt & pepper, to taste
Mini muffin tin (24 muffins)
Directions:
Preheat oven to 400* and prepare your mini muffin tin with non-stick cooking spray, oil, or baking cups.
Whisk eggs, water/milk, and salt & pepper  in a large bowl (we recommend a bowl with a small spout, such as a large Pyrex measuring cup). Evenly distribute shallots, zucchini, and bell pepper in all muffin tin cups.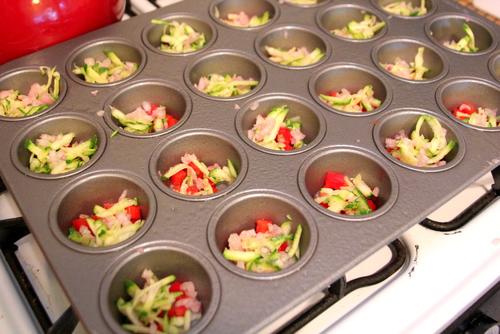 Carefully pour the egg mixture into each cup, filling almost all the way to the top but without overflowing. Sprinkle with the shredded cheese, if using.
Bake in the oven for 8-10 minutes, until the centers look set and puffy. Caution: these will puff up very high in the oven but don't worry, they'll quickly fall back down after they rest and cool for a few minutes.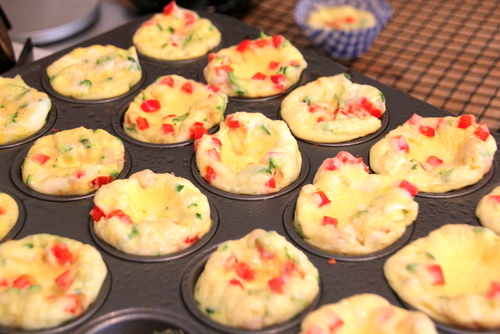 Allow the frittatas to cool down then run a small knife around the edges and pop out of the cups. Enjoy warm immediately or at room temperature. We served these in colorful cupcake liners for a party!
Note: These are great "clean out the fridge" frittatas as well- you can fill them with any veggies you have on hand that you want to get rid of, or any leftover cooked meat (turkey, ham, chicken, bacon, etc).
Tip: Make a batch of these at the beginning of the week and keep in the fridge for breakfast on-the-go all week long. You can reheat in the microwave for a few seconds or enjoy cool.
Get more healthy ideas and delicious snacks by joining NatureBox. Enter coupon code NATURE for 25% off your first month subscription!