This quick and easy recipe brings an Asian-inspired twist to kale chips, making for a deliciously healthy snack. With only four ingredients and less than an hour to make, this treat is one you don't want to miss out on. Can we get a kale yeah?!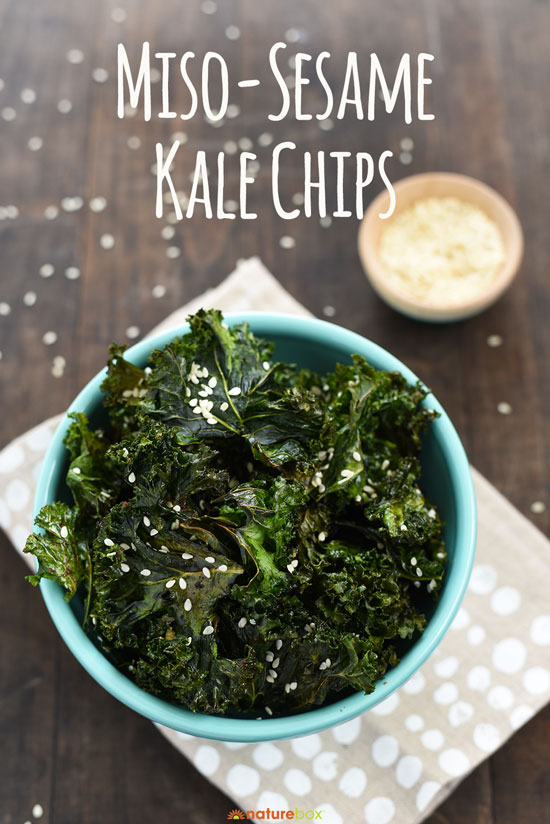 Serves: 4
Prep Time: 15 minutes
Cook Time: 20 minutes
Ingredients:
1 bunch curly kale
5 teaspoons extra virgin olive oil
2 teaspoons white miso
1 tablespoon white sesame seeds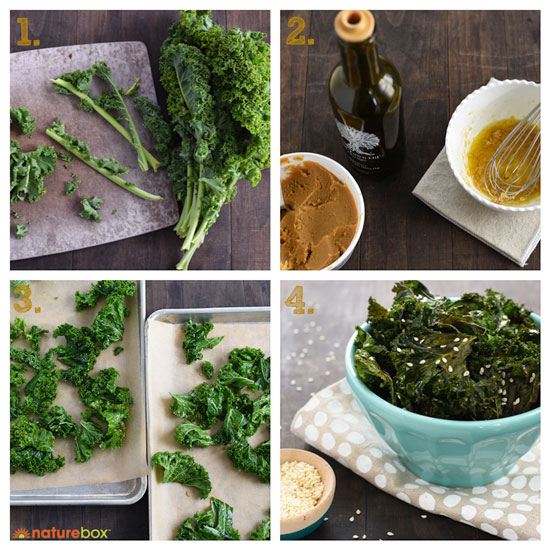 Directions:
1. Preheat oven to 300 degrees F. Line 2 rimmed baking pans with parchment paper. Remove stems from kale; roughly cut kale leaves into large pieces. Divide kale leaves between prepared baking pans.
2. In small bowl, whisk together olive oil and miso (you may have to whisk 2-3 minutes to get the ingredients to come together).
3. Pour oil mixture over kale; use your hands to rub mixture into kale leaves. Massage leaves 1 – 2 minutes or until each leaf is coated in oil mixture.
4. Transfer to oven; bake 10 minutes. Turn and rotate baking pans between upper and lower oven racks; bake 10 to 12 minutes longer or until kale leaves are crisp. Remove pans from oven; sprinkle kale chips with sesame seeds. Let kale chips stand on pans 5 minutes before serving. Kale chips are best eaten right after they are made.
Don't have time to make your own kale chips? We've got you covered. Add one our kale chips to your pantry to receive them in your next box!
In a time crunch? Check out our 3-step recipes!
Get more healthy ideas and delicious snacks by joining NatureBox. Sign up today to kick off your membership with a free trial!
Lori Yates is a Detroit-area food writer and recipe developer. She is the author of Foxes Love Lemons, where she posts special yet simple original recipes, tips from her culinary school adventures and restaurant reviews. Her mission is to encourage people to enjoy the act of cooking at home. You can follow her on Facebook and Twitter @foxeslovelemons.