A guest post by NatureBox Healthy Contributor Lana House
Yesterday we encouraged you to add three new nutrient-dense foods to your snack rotation. We know that if you enjoy 1-2 snacks per day, you're probably always on the look out for more nutritious choices to add to the rotation so we're back with a guest post with some specific nutrient-rich snack ideas from Pilates instructor, Lana House.
___________________________________________________
What we snack on makes all the difference in our health. It's important to eat often to keep blood sugar levels constant (rather than spiking and dropping) but what we eat for snacks is equally important. Rather than reaching for the salty potato chips or afternoon pastry, try to grab something that adds nutritional benefits to your day. Snacking is a golden opportunity to add important nutrients to our diet throughout the day. By choosing the right snacks, we provide our bodies with healthy fats and oils, protein to maintain our blood sugar level, and fruits and veggies that are loaded with health benefits.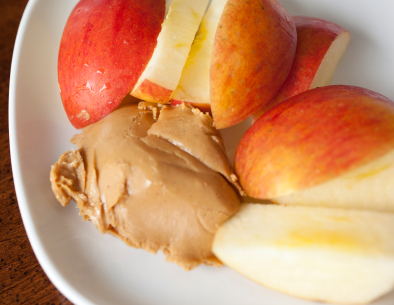 Here are some of my favorite nutrient dense snack ideas:
Avocado on toast or rice cakes: This is one of my favorites. It's fast to make, super tasty and full of healthy fat, which is important for brain function.
Hummus and cut up raw veggies, and/or rice crackers (I also love buying a fresh olive tapenade at my farmer's market to eat with veggies or crackers). Hummus is a great source of healthy oil and a great source of protein.
Cheese and whole grain crackers (I love goat cheddar but there are so many to choose from!) The cheese is a great source of both calcium and protein.
Celery sticks (or apple slices) with your favorite nut butter (almond, cashew, peanut, sunflower all make great ones!) Create "Ants on a log" with some raisins, too! Nut butters are also a great source of protein and healthy fat for brain function.
Any nuts and seeds make a great snack all on their own, too!
Yogurt and cottage cheese also make for an easy, protein-rich snack, too!
Deli meat (I prefer turkey) on rice cakes or bread with fresh basil and tomato (and your favorite mustard or cheese if you like)…yum!
Hard-boiled eggs –make a batch at the beginning of the week. These are a great source of Omega 3s for brain function as well as a quick way to get a lot of protein.
A healthy bowl of plain cereal such as puffed brown rice with your favorite milk (watch out for the ones that have added sugars). The milk is great for calcium and protein.
Happy snacking!
Lana House is the studio owner of House Pilates in Pacific Palisades in Southern California. She has dedicated the past decade to pursuing her passion in fitness and wellness learning all she can about nutrition and exercise and leading a healthy, balanced life. She shares her knowledge through her work and the writing of her blog, House of Health.