Each month, we spotlight a special Nomster to recognize their accomplishments and overall efforts towards the success of NatureBox. This month, we're pleased to announce Helen from our Product Team as Nomster of the Month. Always with a smile on her face, Helen proudly works as our Buying Coordinator to ensure our snackers receive the snacks they want. Get the scoop on her ideal midday snack, dream NatureBox and more!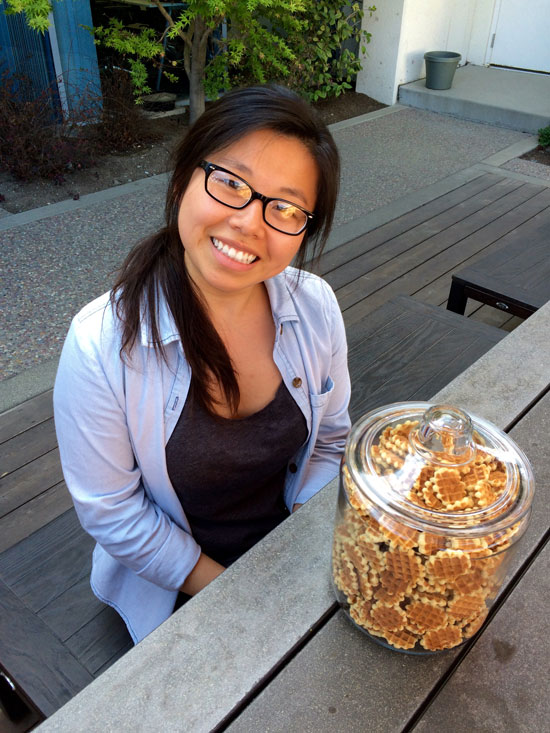 QUESTION: WHAT'S YOUR IDEAL MIDDAY SNACK?
Helen: Something salty and with a good crunch! Like our Salt and Pepper Lentil Loops 🙂
QUESTION: WHAT IS YOUR GO-TO 30-MINUTE DINNER RECIPE?
Helen: Lemon Pepper Baked Salmon with brown rice and some roasted or steamed veggies. I like to keep things simple.
QUESTION: TELL US ABOUT THE BEST OFFICE PRANK YOU'VE PULLED
Helen: I'm usually more of an ally in office pranks. When Product and Ops team pulls pranks on Justin (our Senior Inventory Planner and also target of all our pranks), I help out. Most recent one is leaving a rotten banana on his desk.
QUESTION: IF YOU HAD TO PICK ONE SNACK TO SURVIVE OFF OF FOR THE REST OF YOUR LIFE, WHAT WOULD IT BE?
Helen: This is hard!!!! Apples. Love them and can eat them all day, any day.
QUESTION: WHICH FIVE SNACKS WOULD YOU PACK IN YOUR DREAM NATUREBOX?
Helen: Mini Belgian Waffles, any of the Figgy Bars, Salt and Pepper Lentil Loops, White Cheddar Jalapeno Popcorn, and Garden Tomato Crunchies.
QUESTION: CAN YOU GIVE US A SNEAK PEEK AT WHAT'S COMING TO NATUREBOX?
Helen: Nope! It's top secret 🙂 I stocked up on Mini Belgian Waffles this month so if they go out, it's probably my fault.
QUESTION: AS A BUYING COORDINATOR ON THE PRODUCT TEAM, WHAT WOULD BE THE IDEAL SNACK THAT YOU'D LOVE TO BRING TO NATUREBOX IF THERE WERE NO LIMITS AND RESTRICTIONS?
Helen: I have a major sweet tooth and ice cream had always been my obsession. Recently I found an ice cream parlor that ships directly to their consumers. I thought, "How cool is that?!". Ice cream is totally not realistic for us but a girl can dream 🙂
Get more healthy ideas and delicious snacks by joining NatureBox. Sign up today to kick off your membership with a free trial!