Meet our new Nomster of the Month, Marie! Our Creative Director leads the Design Team in making sure the look and feel of NatureBox is as dynamic as our snacks. With her patented crushed Sriracha Roasted Cashew-rimmed margarita in hand, you can say she knows a thing or two about bold creativity. Check out below to take a peek behind what inspires her creative mind!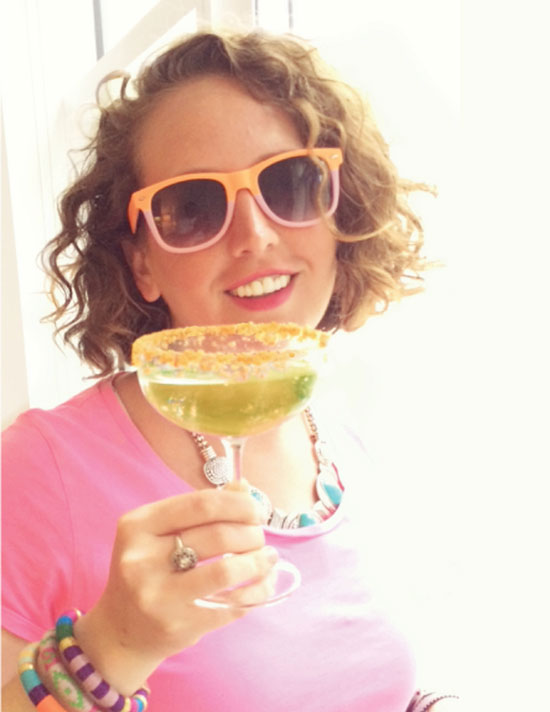 QUESTION: WHAT'S YOUR IDEAL MIDDAY SNACK?
Marie: Sriracha Roasted Cashews! They are full of flavor and I only need a handful then I'm off to the next project. I also love a good spicy margarita and think this is a great way to quickly add that spicy kick.
QUESTION: WHAT IS YOUR GO-TO 30-MINUTE DINNER RECIPE?
Marie: My boyfriend is a really good cook so I usually leave it to him these days. However, when I do have an opportunity, I love making sake steamed mussels. They are fast, easy and delicious.
QUESTION: IF YOU HAD TO PICK ONE SNACK TO SURVIVE OFF OF FOR THE REST OF YOUR LIFE, WHAT WOULD IT BE?
Marie: Whole Wheat Strawberry Figgy Bars because they're tasty and individually wrapped – perfect on the go. But then again, our Cranberry Pepita Crisps are also really good. Let's face it, there are so many amazing options.
QUESTION: WHICH FIVE SNACKS WOULD YOU PACK IN YOUR DREAM NATUREBOX?
Marie: Jalapeno White Cheddar Popcorn, Kung Pao Pretzels, Cashew Crumble, Peanut Butter Nom Noms, Cranberry Pepita Crisps, and Blueberry Almond Bites are also really nice. I clearly can't pick just five.
QUESTION: WHAT INSPIRES YOU AND MOTIVATES YOU TO BRING THE NATUREBOX BRAND TOGETHER?
Marie: There are so many amazing things happening not only in food but also in the design world and we want to bring all of that together. We have some bold and unique flavors and the design team is hard at work bringing these flavors to life. We recently reshot our entire catalog and there is so much more to come!
Get more healthy ideas and delicious snacks by joining NatureBox. Sign up today to kick off your membership with a free trial!