This month, NatureBox recognized Sara from our Operations Team for her positive attitude and ability to go above and beyond to present creative solutions to the team. We were lucky enough to sit down with her (and her adorable pup, Snoopy – one of our favorite visitors in the office) to get the nitty-gritty on her dream NatureBox, her favorite recipe, and more!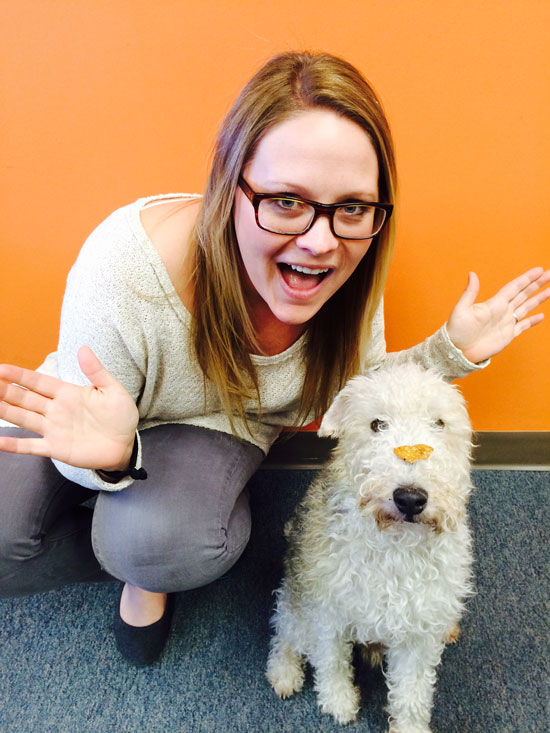 QUESTION: WHAT'S YOUR IDEAL MIDDAY SNACK?
Sara: Big Island Pineapple, let's be honest.
QUESTION: WHAT IS YOUR GO-TO 30-MINUTE DINNER RECIPE?
Sara: Probably a quinoa bowl, which I make up every single time. It's not really a recipe and I haven't come up with a name for it, yet. But, I like to mix in seasonal ingredients – like when figs are in season I'll use that with feta or goat cheese, prosciutto, caramelized onion and chicken meatballs. I mix it all up in one big pot then serve them in bowls. My favorite recipe to make is actually a portobello mushroom pizza. So, instead of the crust you use portobello mushrooms, but those take much longer than 30 minutes to make.
QUESTION: IF YOU HAD TO PICK ONE SNACK TO SURVIVE OFF OF FOR THE REST OF YOUR LIFE, WHAT WOULD IT BE?
Sara: I really like our Dried California Peaches!
QUESTION: WOULD YOU BE ABLE TO EAT THEM EVERY DAY?
Sara: Probably our Sweet Blueberry Almonds, then. I can definitely eat those every day!
QUESTION: TELL US ABOUT THE BEST OFFICE PRANK YOU'VE PULLED
Sara: Usually hiding Justin's [our Senior Inventory Planner] stuff…his chair is always in the middle of the aisle! One of these days, we're going to tie his chair to the desk so he can't pull it out.
QUESTION: WHICH FIVE SNACKS WOULD YOU PACK IN YOUR DREAM NATUREBOX?
Sara: Jalapeño White Cheddar Popcorn, Mini Belgian Waffles, Big Island Pineapple, Sweet Blueberry Almonds, Original Beef Jerky.
QUESTION: wHAT'S YOUR FAVORITE PART OF YOUR JOB?
Sara: Building new reporting tools to help me do my job more efficiently. I used to work in merchandising at my previous job and then tried my hand at business school. Numbers are really easy and fun for me, so I decided to stay in inventory planning.
Get more healthy ideas and delicious snacks by joining NatureBox. Sign up today to kick off your membership with a free trial!