Meet our newest Nomster of the Month, Travis, who comes from our Product team and is the brain behind some of our most ingenious snacks like the Sriracha Cashew Crunch. As an innovator, Travis takes feedback from everyone in the company during our team tastings and doesn't stop iterating on a product until it's as perfect as can be for our customers. He constantly pushes the envelope and thinks creatively about each new product, which results in crave worthy snacks. Learn more about Travis' go-to dinner recipe, best office prank, and what's coming up next in our Snack Catalog below!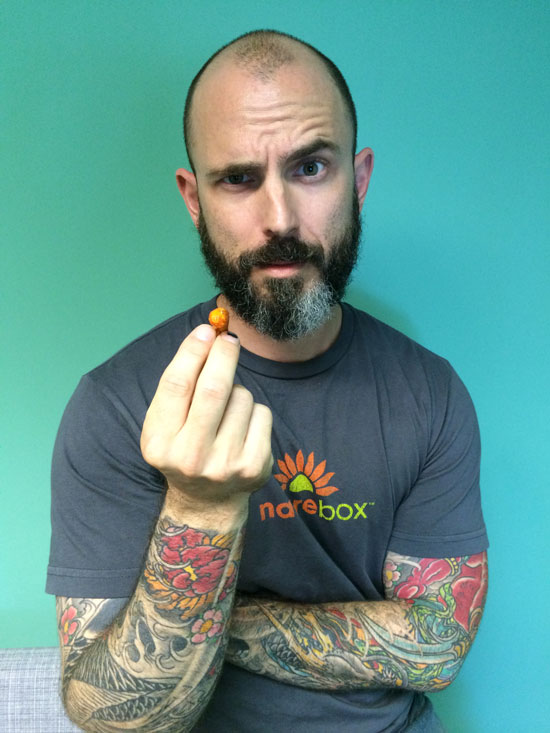 QUESTION: WHAT'S YOUR IDEAL MIDDAY SNACK?
Travis: Honestly, my ideal midday snack is Sea Salt Pop Pops because 1) I'm a popcorn fanatic and 2) I love half popped popcorn. It's a whole grain snack and it's so simple, which is another reason why I love it. It was one of my favorites when I first started at NatureBox and it still is.
QUESTION: WHAT IS YOUR GO-TO 30-MINUTE DINNER RECIPE?
Travis: I don't tend to cook much during the week – I batch cook everything on Sundays so I don't have to worry about it. I pre-fabricate (prep, sometimes cook, and vacuum seal) everything on Sundays and make a big batch to last me through the week. It would almost always involve coconut rice, healthy greens like kale or chards, and a protein like chicken or lentils. Then, I take those staples and reimagine them into something different each night so I'm not eating the same thing over and over again – that would get pretty boring. For example, I might have grilled chicken breast, coconut rice, and kale with sliced garlic, olive oil and chili flakes one night then the next night, I could make coconut fried rice with chicken. I have a restaurant background and even though I'm a trained chef, when I cook at home I cook very simply. But it's still very good! I just don't put a lot of frills to it.
QUESTION: TELL US ABOUT THE BEST OFFICE PRANK YOU'VE PULLED.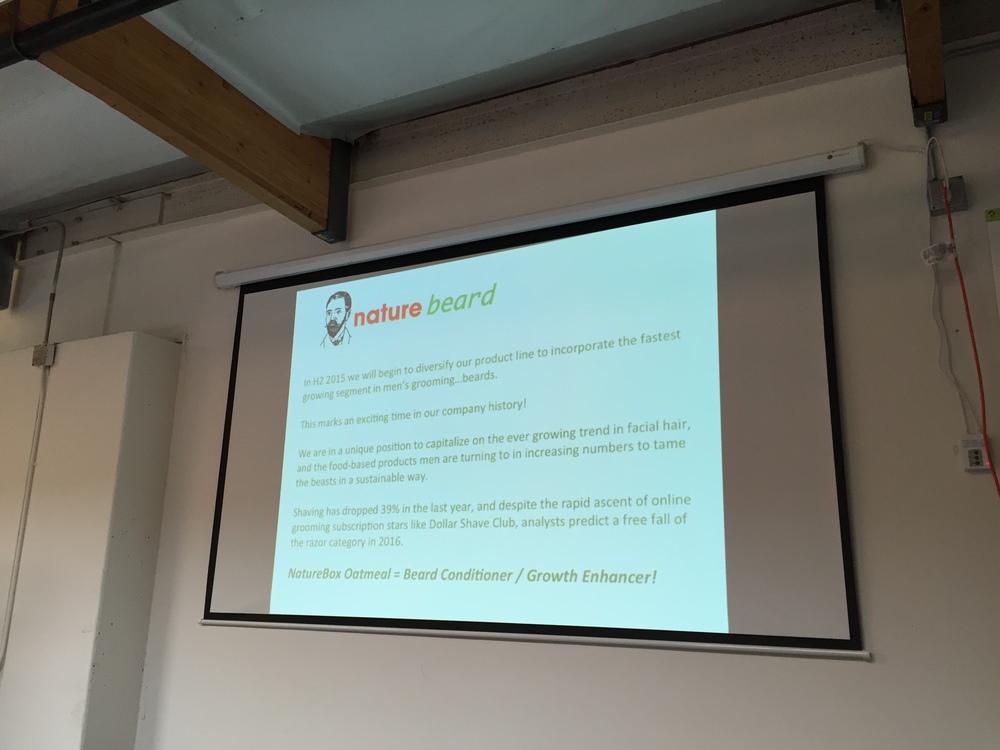 Travis: Oh, I've got a good one. Remember NatureBeard? We got all the male execs to grow out their beards and at an all hands team meeting, we presented it and went all out. We had a PowerPoint presenting our next new vertical – NatureBeard. I got up and presented the concept by demonstrating how to make an oatmeal conditioner using our oatmeal cups. I even went as far to comb the "conditioner" through my beard in front of the whole company. It was great.
QUESTION: IF YOU HAD TO PICK ONE SNACK TO SURVIVE OFF OF FOR THE REST OF YOUR LIFE, WHAT WOULD IT BE?
Travis: I f**ing love the Sweet Blueberry Almonds. When I first heard about it, I thought they were so weird – but I tasted them and they were amazing. It's now my 11pm pre-bedtime snack.
QUESTION: WHICH FIVE SNACKS WOULD YOU PACK IN YOUR DREAM NATUREBOX?
Travis: Flax Fortune Coins, Mini Belgian Waffles, Sweet Blueberry Almonds, Sriracha Roasted Cashews, and Simply Smoky Nut Mix – cuz I'm from Texas.
QUESTION: WHAT IS YOUR FAVORITE SNACK THAT YOU'VE BROUGHT TO NATUREBOX?
Travis: The one that's closest to my heart is the Sriracha Cashew Crunch because it was a good challenge for me. I knew that Sriracha is extremely popular and the Sriracha Roasted Cashews was undeniably popular. I wanted to offer an alternative that was thoughtfully reimagined and a product that enhanced the texture, visual appeal, and uniqueness while still capitalizing our favorite product. We used Sriracha Cashews and created a light and crispy mixture, then added in the Roasted Peruvian Corn Kernels. I have yet to see a Sriracha flavored corn kernel. The Sriracha Cashew Crunch has three textures instead of just one – but with same familiar flavor in a new and unique way. There's the soft crunch from the cashews, a light crispiness from the rice, and hard and satisfying crunch from the corn kernels.
QUESTION: WHAT OTHER IDEAS (CATEGORIES, SNACKS OR FLAVORS) DO YOU HAVE THAT YOU WANT TO INCLUDE IN THE SNACK CATALOG?
Travis: I have so many – what I'm working on and excited about is a Szechuan snack mix. Overall, I'm interested in delving into ethnic flavors and exploring cultures through flavor and exploring the world through flavor. There are a lot of different ways we can do that by targeting different regions, sub-regions and countries with their own distinct and different flavor profiles. The Szechuan flavors are bold, approachable, recognizable, spicy, and fits right in our wheelhouse of what we do.
QUESTION: CAN YOU GIVE US A SNEAK PEEK AT WHAT'S COMING UP NEXT?
Travis: I can – I think the customers can expect some holiday specific products. Also we're working with our marketing and design teams to really create a cohesive message and theme around what we're doing by season.
Choose from over 100 deliciously wholesome snacks by joining NatureBox. Sign up today and get your first box on us!