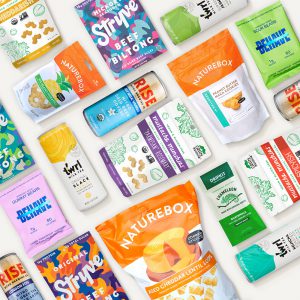 Why NatureBox Partner Market?
A blog post from the CEO of NatureBox, John O.
The snacking community has long craved variety in snacks and drinks that are both good for them and taste delicious. And to have one trustworthy place to go for all that? That would be a bonus.
It's time to listen.
Our Partner Market provides a new line-up of snacks and beverages that will live on NatureBox.com. Our goal is to make shopping for different healthy snacks and drinks as simple as our ingredients. Keeping to our food philosophy, our Partner Market will continue to make snacking a more mindful experience. One where consumers don't have to think about the label.
Innovating in our industry: From "better-for-you" snacking to adaptogenic wellness snacks
NatureBox started over 10 years ago by innovating in the category of "better-for-you" snacking.  Over the years, the NatureBox brand has expanded from better-for-you snacks to wellness snacks with functional benefits. Our new mission: Transform snacking from an unconscious, unhealthy behavior to one where the ingredients help you reduce stress in your body. 
We know what goes into our snack products because we have carefully handcrafted over 1,000 different snacks ourselves. We develop and produce our own food. What did we learn? It's not easy to make healthy snacks taste great without adding a bunch of junk. 
There are too many short-cuts and artificial ingredients meant to help extend shelf life or give a treat with lower calories a better taste. We see our competitors get longevity and shelf-life by adding unnecessary or unintentional ingredients that aren't good for people or the environment. At NatureBox, we care about what goes into our products and strive to make snacking a mindful  experience for everyone who enjoys them.
Caring for our customers: Craving variety, wellness, and mindfulness
We're passionate about our customers. Especially our corporate customers who love and trust our current products but want to experience more variety in their wellness snacks. Well, we listened. Now, we offer a marketplace of curated products from like-minded companies that provides an assortment of delicious and healthy options without the overwhelm.
The manufacturing of food has changed and many brands have come out of the woodwork since we started NatureBox 10+ years ago. Now, there are a plethora of amazing brands that align with our food philosophy and meet our critical standards that we're excited to partner with and put in front of our customers. 
But we don't just sell anything to anyone. What's so unique about our process is two things: 
After sifting through ingredients for hundreds and hundreds of products while continuing to produce delicious snacks over the last year, we've honed our craft to focus on functional and adaptogenic snacks. 

We're using our know-how in food development to thoroughly vet brands and curate the best of the best to include in the NatureBox Partner Market for our corporate and consumer clients.
Highly curated and selective: Eliminate stress and overwhelm 
Have you ever heard of "bromate flour?" Likely not. Artificial ingredients like this one and others you may not know about are present in many commercial products. However, with knowledge from years in the industry, we know you don't want them on your ingredient list.
Partner Market. It helps us thoroughly vet the third-party brands before they make it into the hands of our customers. Our curation process is detail-oriented and selective so you never have to question the quality of the snacks and drinks you're shopping for. Our mission is to be more mindful about reducing stress, not increasing it. 
You may have heard of the term "The Paradox of Choice," which Barry Schwartz coined in 2004. The essence is when we're presented with too many choices, we tend to become stressed out. Unlike other snacking companies that overload consumers with an endless scroll of products bought through distributors, NatureBox Partner Market provides consumers more variety without the overwhelm through our expert curation of healthy and delicious products. It prevents the paradox of choice.
Partner Market gives us the flexibility to hone in on our functional snack offerings, stay true to our food philosophy, and continue to offer tremendous value to our customers with a variety of delicious, curated wellness snacks you can trust. Check it out today at naturebox.com/partner-market