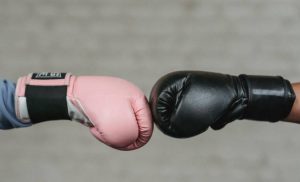 A message from John Occhipinti, CEO of NatureBox.
From our podcast, I have been able to have amazing conversations with HR leaders from companies like LinkedIn, Weight Watchers, Zoom, LogMeIn, Electronic Arts, Procore, Ancestry.com and others.  These leaders are responsible for the care and feeding of their company's culture.  Now coming out of the pandemic, these executives are turning their attention to a new challenge: re-entry back to the office and hybrid workforces.
We are excited to be seeing our pre-COVID in-office customers back in the office and we are equally pleased to continue taking care of their remote teams supporting a hybrid workforce.  
Recently, we were covered in a comparison to an upstart competitor.  We like the competition, and also appreciate being chosen for the quality of our wellness adaptogenic snacks, as well as our ability to handle both sustainable in-office and remote employees with custom snacking from one platform.  
 Here is a summary:
NatureBox vs. SnackMagic
Written by: Brad Anderson
Remote snacking companies have surged during the pandemic. Our office stayed busy sending out boxes — or dropping a snack box on the porch for our "work at home" employees and sending an "invite to make a box for yourself on us."
My assistant suggested that we get a snack package sent to our remote team so that we could all stay connected. I had not expected the response rate. We heard from every employee — with gratitude — that we (well my assistant) took the time to send a "care package." Usually, we would just have each person pick what they wanted — but we decided to do something special and snail-mail. It was awesome.
Leading Snack Companies
Here we take a close look at two of the leading snack companies — one upstart leader, and one a 10-year veteran.  We put each company through their paces to help you determine which snacks might be better for you — especially as HR Managers prepare for some portion of the workforce to be back in the office.
But, seriously — if you want to let your office employees know how much you appreciate them — dig into a snack company and send out an appreciation gift that all of your peeps will love.
SnackMagic came on the scene last year through a pivot from their pre-covid catering services company.  Catering went the way of many U.S. businesses during the pandemic. The customers left and SnackMagic bravely started a new company with an online solution enabling gift givers to send a "SnackStash" to recipients who could then, in turn, redeem snacks online.
SnackMagic resells challenger brands and claims to have over 500 SKU's to choose from.  Most of their inventory is products that you would find on Amazon and some local retail stores. Recently the company raised capital and is now selling other non-food items. They purport to be "The only 100% customizable snack box company."
NatureBox has been delivering health snacks direct-to-consumers for a decade and also has corporate clients like Google.
Pre-covid NatureBox also had a popular in-office snack program with its own branded products. During Covid, NatureBox turned to its existing direct-to-consumer capabilities to deliver customizable snack boxes with a solution called "SnackPass."  The NatureBox Company is also a 100 percent customizable snack box solution. Naturebox has a large collection of its own branded adaptogenic wellness snacks — and recently launched a new Partner Market of curated third-party brands.
With secret shoppers — and our own team at ReadWrite — we tried both of these company's snacks.  Here is what we found.
Site Experience With Snackmagic

Snackmagic had an intuitive website and the ordering process was easy. The ordering included a breadcrumb trail and a good check-out flow. The starting pricing per box was $45 dollars making an order a bit pricey (especially if you're sending out a care package for your team). Once you place an order, the user gets an email or a link back to SnackMagic's site to redeem their SnackStash.
The user experience on the receiver side is good with a lot of choices once the user gets to the website.  Some of our people really like the variety — but many found the process a bit overwhelming to fill their carts and found it a little hard to choose so many similar products.
Site Experience With NatureBox
The site experience with NatureBox went pretty well and was efficient. We were able to order directly on the site with no problems. It was nice to see a phone number on the site if we needed assistance or didn't understand something.
The NatureBox SnackPass started at $25 dollars which was much more approachable — again, especially when you want to be generous to quite a few people who are having a hard time adjusting in this economy.
We decided to set our budget for the minimum of $45 at NatureBox so we could see exactly how it would "stack up" to the exact SnackMagic dollar amount. It was really nice to be able to customize a message with our logo with the NatureBox Box.
The user experience for redemption was easy for our recipients as well.  Once they got to the NatureBox site they also received a free membership to NatureBox and the assortment was appealing.
Slight Edge: SnackMagic
It is easier to send things out to your employees — or have your team pick and choose from a site if it's not going to break the bank. I got a little grumpy with the price. But the SnackMagic Box seemed to have a slight edge over the NatureBox offerings.
Product and Unboxing of the SnackMagic Box: 
For Snack Magic — when the product arrived, the box had a colorful sticker and it was visually exciting.  The box had plenty of snacks in the delivery box, but many of them were smaller serving sizes than expected. (This made us wonder if some were samples.)  Some of the snacks were terrific but in the end, only about 60% of what came in the box was consumed.
We all felt that one selling point was lacking with SnackMagic. Due to the serving sizes, it was harder to share with the family.  Now maybe if Covid hadn't been in full swing, this would not have mattered that much — but somehow — we didn't want to share.
My assistant did a quick look-up on the products and found that a vast majority of the snacks were listed on Amazon. Not the worst thing, we buy a lot of stuff from Amazon.
Product and Unboxing of NatureBox
Naturebox arrived with a "Ya I'm here" logo on the box.  Fun and equally appealing to all. The box was a bit larger than SnackMagic. What was delivered was quite good. Naturebox products had multiple servings per snack package and tasted great.  The packs were all large enough that office people or family could have a taste of each item.
The sampling of many items — even if poured out to individuals — was a blast — and we ate all the products. While NatureBox offered a "Snack Guarantee" that would have allowed us to replace any of the snacks, we did not need to send back or exchange anything. Lots of variety in crunchy items and variety in the flavors.
We looked each item up and could not find any of the products on Amazon.  The Tumeric Lemon cookies won the household (and the employee vote).
Edge: NatureBox
We really liked that we had not seen any of these items before and that we could share the amounts of product with others in the family. It was fun to have new snack stuff to share at home.
In-Office Snacking
When SnackMagic pivoted to remote teams during the pandemic, it appears that they burned the ships behind them on the old in-office snacking model.  Today their system does not seem to be designed for in-office solutions. We could not find the use-case on their site, but they may be working on their pivot for the near future. We are wishing them the best.
NatureBox has a dedicated product for in-office snacking solutions.
NatureBox has a month-to-month solution with no contracts and most of their product is in bulk.  NatureBox leverages CDC compliant no-touch containers and you can mix up your variety as often as you like.
We did not go through the order process but it appears that NatureBox picked up where they left off before COVID. We assume that their new Partner Market may also be available to corporate accounts.
Edge: Naturebox
Bottom line
SnackMagic impressed us upfront — but NatureBox delivered a better product in the end for remote teams.
It is nice to be able to have end-users customize their own snack boxes. Both Companies deliver on customization, but the user's end experience with the product and uniqueness of what arrived gave NatureBox the upper hand.
If you need one solution for both in-office and remote teams, NatureBox looks to have a better option. At this time we found one vendor and consistency for home and office.