Make Your Water Bottle Your New Best Friend!
by NatureBox Health Contributer Lana House, Pilates Instructor 
Yesterday we discussed why drinking plenty of water and staying hydrated is important for not only your health, but your mood as well. But gulping down those 8 glasses every day is easier said than done! Today, Lana shares a guest post about her secret to getting plenty of water each day, all thanks to her "best friend"- her waterbottle!
______________________________________________________
My CamelBak is my best friend! Like my purse, it comes with me everywhere I go. In fact, I even bring her around with me wherever I am in the house! My Camelbak is my pink BPA-free plastic water bottle. I have literally had the same one for years, probably because it is as important to me as my keys, so I never lose her. She is the KEY to me getting the water I need everyday.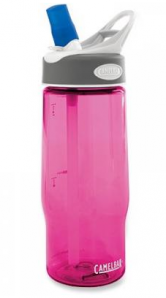 We learn our entire lives how important it is to drink water and yet we are still a dehydrated population. People are not drinking enough water and water truly is what keeps us living. Nearly 60% of our body is water. Drinking enough water helps so many medical ailments such as chronic fatigue, allergies, depression, digestive problems, urinary tract problems, constipation, skin problems, migraines, and so much more. The old 8 glasses of water a day is a great starting place but chances are you aren't even getting that much, especially if your drinking glass is a four-ounce cup. It is recommended that you aim to get about half your body weight in ounces a day. If you are very active, you will need more.
The great news is that if you find a friend like the Camelbak, it will be easy to drink more water daily! Not only is it easy to tote around with you, but also the large drinking straw it comes with makes it very easy to drink lots of water.
It will become a habit if you take the time to train yourself to remember- you just need to find the water bottle and system that works for you! They have all different shapes and sizes of water bottles these days: glass, aluminum, plastic- you name it! The key is to get one you like and will commit to using! Or get a couple different sizes if you prefer not to carry it around so you can have one at work, one at home, perhaps even one in your car or gym bag. The point is to make it a part of your day, everyday, so that you continue to nourish your body with the best thing for it.
Lana House is the studio owner of House Pilates in Pacific Palisades. She has dedicated the past decade to pursuing her passion in fitness and wellness learning all she can about nutrition and exercise and leading a healthy, balanced life. She shares her knowledge through her work and the writing of her blog, House of Health.
Get more healthy ideas and delicious snacks by joining NatureBox. Enter coupon code NATURE for 25% off your first month subscription!
______________________________________________________
Tell us: what's YOUR secret for staying hydrated all day long?