Happy 2015! Today, we have a really easy and delicious lunch idea that your kiddos will love.
One of my biggest "ugh" moments is when a lunch box comes home practically untouched. I always worry if he starved all day. But, when I put some extra thought into lunch, I can usually guarantee an empty box that day. This lunch (with the mac and cheese muffins) came home with barely a crumb left! Score!
These muffins are ridiculously easy. Use your favorite macaroni and cheese (homemade or boxed…we like an organic boxed kind in our house), and place big scoops into greased muffin tin holes (squishing down well) with a sprinkling of bread crumbs on top. In these muffins pictured here, I also added a handful diced ham. These muffins were pretty much made of leftovers…it worked out great! Bake the muffins at 350° for 20 minutes.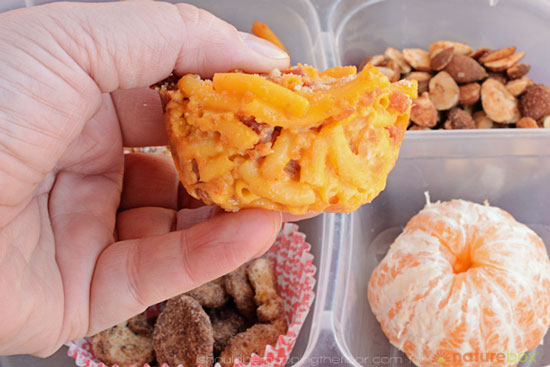 So yummy! They're an awesome addition to any lunch. And of course, perfection for my non-sandwich eater.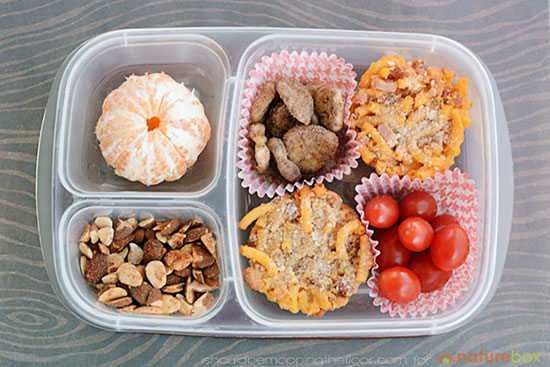 Also included in this lunch is a clementine (I peel it ahead of time so he won't have an excuse), grape tomatoes, NatureBox Chocolate Banana Chips, and NatureBox Garden Tomato Crunchies.
Here's to healthy (and finished) lunches in 2015!
Get more healthy ideas and delicious snacks by joining NatureBox. Sign up today to kick off your membership with a free trial!
Kristi Dominguez is a former event planner and part-time graphic designer. She blogs at IShouldBeMoppingTheFloor.com where she tackles projects to turn her cookie-cutter home into something more exciting. A lot more exciting.