by Angie Ramirez of Little Inspiration
Don't you love no-bake desserts?! In only 15 minutes you can make these no-bake snacks and have them ready for the whole week. Not only is this healthy but they're great snacks for the kids too! They are full of protein, and very yummy. If you ever crave candy, try this snack instead!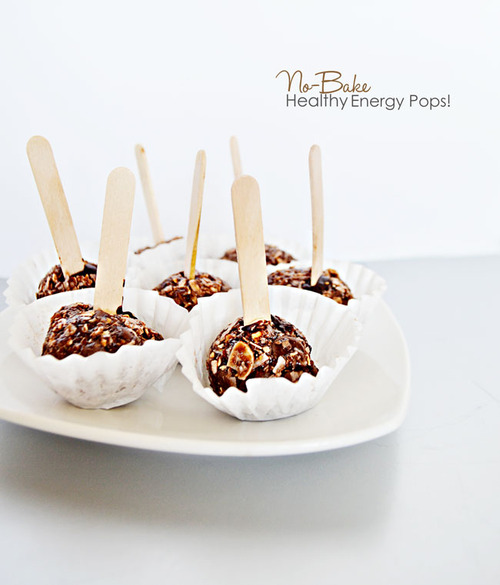 Makes: 12 pops
Prep time: 15 minutes
Cook time: 30 minutes
Ingredients:
1 cup of dry oats

1/3 cup of chopped almonds

1/2 cup of Nutella (or sub in nut butter of choice)

1/2 cup of natural peanut butter

1/3 

cup of honey

1/3

 cup of dried cranberries (optional)

1/2 cup of ground flax seed

1/2 cup of mini dark chocolate chips

2/3 cup of unsweetened coconut flakes

1 tsp of pure vanilla extract

Popsicle Sticks
Directions:
1. Combine all ingredients in a large bowl.
2. Refrigerate the mix until slightly firm, about 30 minutes.
3. Using your hands, form about 2-inch balls.
4. Dip the popsicle stick into melted chocolate then insert into the ball until it feels sturdy to hold, about halfway.
Notes: I added half of Nutella & Peanut Butter but you can just simply use peanut butter or any nut butter that you prefer. The ground flax seed can be substituted with granola or it can be left out. Don't be afraid to change and add your favorite healthy ingredients into the mix!
Get more healthy ideas and delicious snacks by joining NatureBox. Enter coupon code NATURE for 25% off your first month subscription!
Angie shares yummy food, easy DIY crafts, adventures of motherhood, and everything in between on her blog, Little Inspiration. Check out more of her healthy and fun recipes here.