This month, we're celebrating two Nomsters of the Month! Simone, our Graphic Designer, and Aya, our Lead Product Designer, were honored for their hard work and dedication to all things design. We were super lucky to get a chance to snag a quick interview with these talented ladies. Read on to find out more about their dream NatureBox, some office prank tips, and more!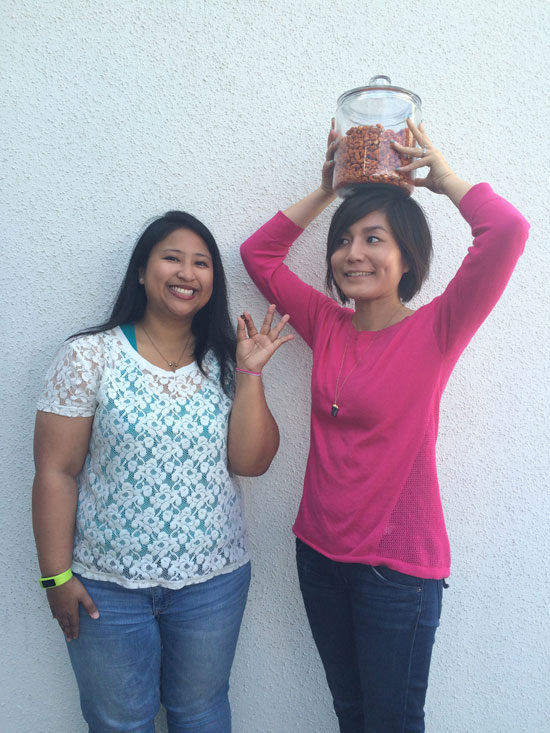 QUESTION: WHAT'S YOUR IDEAL MIDDAY SNACK?
Simone: Teriyaki Beef Jerky
Aya: Honey Dijon Pretzels
Simone: Ooh and Salt & Pepper Pistachios!
Aya: Oh yeah, that's a really good one.
QUESTION: WHAT IS YOUR GO-TO 30-MINUTE DINNER RECIPE?
Simone: Mashed cauliflower and baked lemon-peppered chicken thighs. I usually take off the skin and take out the bones and cut it into smaller pieces so it'll cook quicker. Then, I just drizzle olive oil and sprinkle lemon pepper. Sometimes, I'll put some garlic in it if I feel like it.
Aya: Kabocha, a Japanese squash, in a Japanese broth. I cut the kabocha into 2-inch cubes and then cook it in shoyu (soy sauce), mirin, sake and sugar for about 20 minutes and cover it with foil to pressure cook the broth.
QUESTION: TELL US ABOUT THE BEST OFFICE PRANK YOU'VE PULLED.
Aya: I've got a couple. Put a tiny sticker under the bottom of someone's mouse and they won't know why it's not working. Or, take a screenshot of the entire desktop and set it as the desktop background so they won't know why their computer isn't working.
Simone: I'm the one who gets pranked!
QUESTION: IF YOU HAD TO PICK ONE SNACK TO SURVIVE OFF OF FOR THE REST OF YOUR LIFE, WHAT WOULD IT BE?
Aya: Salt & Pepper Pistachios
Simone: I'm thinking about what I'd survive off the longest – but in reality, I'd probably pick Big Island Pineapple…I wouldn't survive very long on that.
QUESTION: WHICH FIVE SNACKS WOULD YOU PACK IN YOUR DREAM NATUREBOX?
Simone: Big Island Pineapple, Jalapeño White Cheddar Popcorn, Teriyaki Beef Jerky, Mini Belgian Waffles, and South Pacific Plantains
Aya: Whole Wheat Vanilla Animal Cookies, Dried Mango, Original Beef Jerky, Strawberry Lemonade Fruit Stars, and Salt & Pepper PIstachios
Sign up for NatureBox today and get snacks delivered straight to your door. With over 100 deliciously wholesome snacks to choose from, we've got something to please every palate.