This morning, we are having mini pancakes! These pancakes are delicious and healthy. With only a few simple ingredients, you can cook these up for your family in a snap. You can do full size pancakes or create mini pancakes as a perfect size for the kiddos. Add fresh fruit and maple syrup to enjoy these yummy pancakes for breakfast or brunch.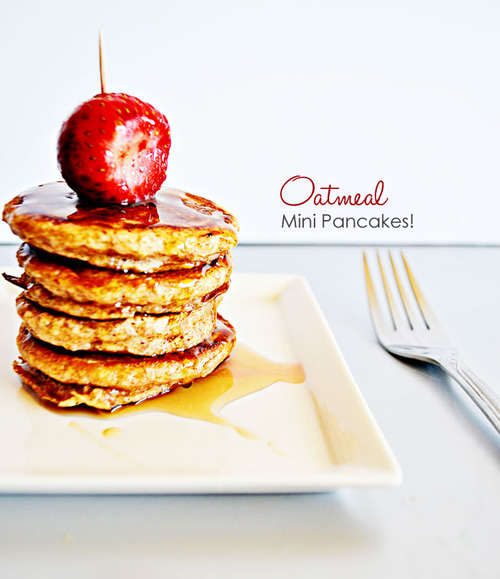 Makes: about 20 mini pancakes or 12 normal sized pancakes.
Prep time: 15 mins
Cook time: 20 mins
Ingredients
1 cup whole wheat flour
1/2 cup quick oats
1 tablespoon brown sugar
Pinch of salt
1-1/2 teaspoons baking powder
1 teaspoon ground cinnamon
1-1/2 cups buttermilk
3 egg whites
Directions:
1. In a medium bowl combine all dry ingredients (flour, oats, brown sugar, salt, baking powder, cinnamon).
2. In another medium bowl combine all wet ingredients (milk & eggs).
3. In a large bowl add wet & dry ingredients and mix until the batter is slightly lumpy.
4. In a medium skillet at medium heat add oil or butter. Pour a small amount of pancake batter on skillet and flip once bubbles start to form. Flip over and cook for about 2 more minutes.
Maintain pancakes in a 200-250 degree oven until ready to serve.
Pancake tip: Dispense pancake batter into the pan even more easily by squirting it from a ketchup bottle!
Note: You can change buttermilk to whole milk or any other milk of your choice.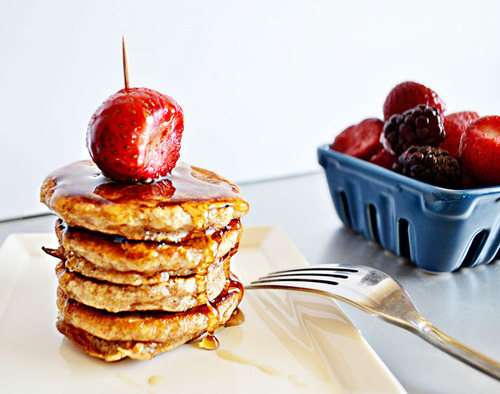 Get more healthy ideas and delicious snacks by joining NatureBox. Sign up today to get 50% off your first box!