Soft and fluffy pumpkin cookies are sweetened up every so slightly with a light drizzle of glaze. Whip up a batch of these to share with your office or to share with the whole family!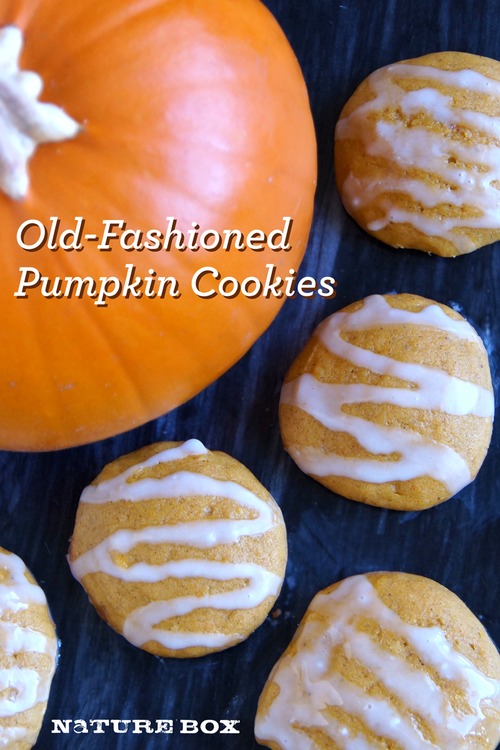 Makes: 18 cookies
Prep time: 20 minutes
Bake time: 15 minutes
Ingredients:
1/2 cup pumpkin purée (canned or fresh)
1/4 cup unsalted butter, room temperature
1/2 cup granulated sugar
1/4 cup brown sugar
1 egg
1/2 teaspoon vanilla extract
1-1/4 cups all-purpose flour
1 teaspoon baking powder
1/4 teaspoon salt
1 teaspoon cinnamon
1/4 teaspoon nutmeg
Glaze:
1/2 tablespoon milk
1/2 cup confectioners sugar
Directions:
1. Preheat oven to 350 degrees F. In a stand mixer, cream together the butter and sugars, about 3-4 minutes. Add pumpkin purée, egg, and vanilla.
2. In a separate bowl, add the remaining ingredients and whisk together. While mixing, add the dry mixture to the wet mixture a little at a time.
3. Drop tablespoonfuls of cookie dough onto a silicon mat-lined baking sheet 1-1/2 inches apart. Bake until light golden brown, about 12-15 minutes.
4. Make glaze: Stir milk into sugar. Once cookies have cooled, drizzle glaze over cookies.
Got a sweet tooth? Whip up these other delicious sweet treats!
Get more healthy ideas and delicious snacks by joining NatureBox. Sign up today to get 50% off your first box!
Kristianne is the founder of My San Francisco Kitchen, where she shares everyday recipes that focus on cooking/baking from scratch.