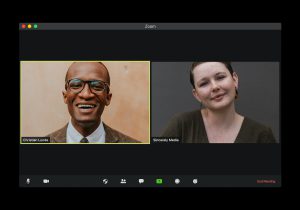 Companies large and small have experienced disruption due to COVID. From adjusting to new ways of working, learning to communicate with a dispersed workforce, and developing successful onboarding practices for remote employees, we're all in transition. 
And with transition comes ambiguity. 
This added challenge that comes with the virtual work environment means your job as an HR professional is to ease the stress that accompanies starting something (or somewhere) new.
But what do you do when onboarding employees virtually wasn't on your list of job responsibilities pre-pandemic? These tips will help HR professionals like you learn how to onboard new hires while limiting uncertainty and maximizing meaningful connections between remote members on your team.
3 tips to successfully onboard remote employees
Onboarding is a series of events lasting up to 90 days and should consist of specific milestones, including new hires meeting their manager, team members, and welcome coach. 
This is a time of doubt, change, and adaptation. However, you can set your new remote employee up for success using these 3 onboarding tips to make them feel like they belong.
1. Create a checklist for the onboarding process
A 2017 Career Builder survey reports that 36% of employers lack a structured onboarding process, leading to lower productivity, higher employee turnover, lower morale, and lower employee engagement. All things you want to prevent as an HR professional.
To successfully onboard remote employees, have a step-by-step plan in place that details the schedule of events, job expectations, and the company's mission and goals for the new hire. The less confusion, the better. 
At a loss for what to include? Here's a sample checklist to address each aspect of the onboarding process – the company, your new hire's role within it, their team members, and themselves.
Company
Benefits and compliance

Policies and procedures

Systems, tools, equipment, applications, software

Purpose, vision, values, and mission

Code of Ethics

Organizational structure

Financial information
Career
Goal-setting training

Role-specific training

Coaching

Networking and connections
Team
Teamwork and collaboration training

Meet the team (1:1 and/or a social)

Communication channels

Team trivia
Self
Welcome video

Individual development plan

1:1 with manager

Communication

Worker wellness

Stress management

Personal feedback
2. Limit ambiguity during the onboarding process
Now more than ever, leaders must appreciate that employees are not robots or algorithms. They are human beings with wants, needs, problems, emotions, ideas, and aspirations.
Bringing them through an organized process, prioritizing clear communication, and sharing important company details with your new hire is key. You want to avoid any confusion. Let's discuss a few ways to do this.
Provide direction
Holly Symosky, Talent Manager at CommScope, recommends breaking up the onboarding process into phases with clear instructions on how to complete each phase. 
When you split the experience into the first 30 days, the middle 30-60 days, and the final 60-90 days, it allows plenty of time for your new remote employee to observe, learn, and integrate into your company and its culture. It also helps retention.
Set expectations
According to a 2019 Indeed survey, 44% of new hires who left within the first six months said receiving clear guidelines about what their responsibilities were could have helped them stay longer.
It's important to set clear expectations about team norms, commitments, goals, timelines, and how results are measured. Also, in our new virtual world, make sure your new hire understands the remote working arrangements and when personal, performance, and team check-ins will be conducted.
Share company values, goals, etc.
Let's think back on the onboarding checklist mentioned earlier. This is the "company" aspect.
New hires, remote employees especially, need to be introduced to the company's purpose, vision, and values. Otherwise, they won't know how to align themselves with the company as a whole. 
If you don't tell them, they won't know. Communicate them clearly and frequently to create a cohesive team with all its members working toward a similar goal. 
3. Maximize meaningful connections between remote employees during onboarding
In a 2020 study by Harvard Business Review on remote workplace trends, 80% of respondents said they would have better relationships with more frequent team communications.
Connection and a sense of camaraderie are what keeps employees around, especially when they work remotely. To make those moments of interaction online meaningful and engaging, there are a few things to keep in mind.
Build trust
Work doesn't always have to feel like work. A key part of the onboarding process is for your new hire to develop relationships with other team members. There are a few ways to do this.
A welcome lunch can make your newest employee feel valued. Or, show them you care by sending a personalized snack box to their doorstep on their first day. 
Another option is to create a team directory that includes where in the world everyone is located (with photos!), personal hobbies, strengths, likes and dislikes, and any personality test results. 
You can also segment a channel in Teams or Slack to be a virtual water cooler, making up for the missed chatter while passing each other in the hallway, at the cafe down the street, or in the office kitchen.
Make an effort to get to know the human outside of the employee.
Connect with face-to-face time
In the same 2020 study by Harvard Business Review, 43% of respondents said more face time would help them develop deeper relationships with team members.
You can start by asking your remote team to share their availability with each other and make themselves accessible for virtual water cooler-type conversations via Zoom, Teams, or Slack. This allows for you and your team to check-in with your newly onboarded remote employee to see how they're doing, both personally and professionally. 
It can be challenging to fostering connections in the virtual environment, so regularly scheduled meetings are essential. This can be a goals check-in, an opportunity to provide feedback, or answer questions about performance or development.
Unite around a commitment to the company
When your team meets for regularly scheduled check-ins, this is a great opportunity to ensure that each member of your remote team is working toward the same goal that aligns with the company mission.
Your new hire will inevitably make mistakes and disrupt the flow of the team when they first begin. However, it's crucial to stay committed and iron out issues as they come along. When your team is able to do this together (or with your help), everyone is united around a common goal.
Follow up with new hires
The last tip for you when it comes to connecting with your new employees who work remotely is this: Follow up. 
Within the first 90 days of onboarding, you should conduct a survey to gather feedback about the onboarding experience, their feelings about the company, and their connection with other team members. Use this data to make changes to or double-down on aspects of the onboarding experience that were successful. 
While onboarding employees virtually may not have been part of your job as an HR professional before the pandemic, it's a core part of your responsibilities now. To avoid confusion for new hires or a lack of team cohesion, follow these tips for a successful onboarding experience for your remote employees.