Still got those Blueberry Nom Noms laying around? Add them to this light but decadent, simple but sophisticated parfait! Light cream is whipped up to airy fluffiness and layered onto soft-baked rolled oats and honey a.k.a. NatureBox Blueberry Nom Noms. This sweet treat is finished off with the brightness of fresh orange juice and zest.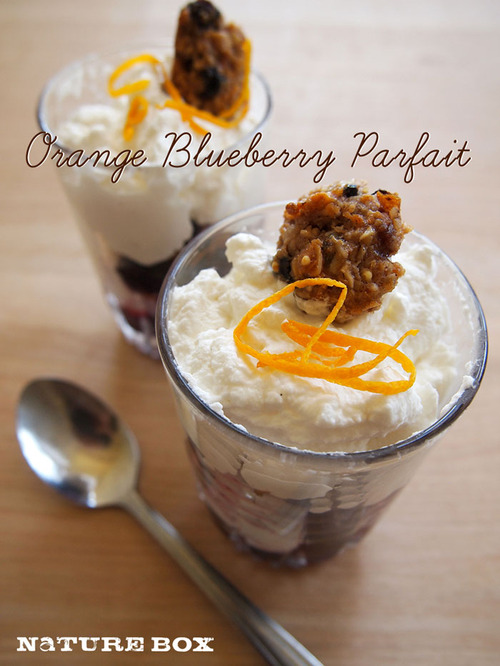 Serves: 2
Prep time: 15 minutes
Ingredients:
1 cup frozen blueberries
1 teaspoon sugar
2 tablespoons orange juice
1 teaspoon orange zest
1 cup light whipping cream
2 tablespoons powdered sugar
1 teaspoon vanilla extract
1 package NatureBox Blueberry Nom Noms
Directions:
1. In a small bowl, mix the blueberries, sugar, orange juice and zest. Let the mixture macerate for 10 minutes in the fridge.
2. In a stand mixer fitted with a whisk attachment, beat the light whipping cream, powdered sugar and vanilla until soft peaks form, about 3 minutes.
3. Break the Blueberry Nom Noms in halves. Set aside.
4. Alternate the blueberry mixture, whipped cream and Nom Noms in layers between 2 glasses or bowls until full. Garnish with orange zest and a chunk of Nom Nom. Serve immediately and enjoy with a friend or special someone!
Still wondering how to make whipped cream? Check out our 3-step recipe!
Get more healthy ideas and delicious snacks by joining NatureBox. Enter coupon code NATURE for 25% off your first month subscription!
A devout student of flavor, Tsz documents her food adventures at Gastrophoria. In the rare moments she's not planning her next meal, she grows businesses through unique design solutions.