Mother's Day is just around the corner and what better way to spoil Mom than breakfast in bed? Show her how much you care with Overnight Oat Parfaits and Banana Bread Granola.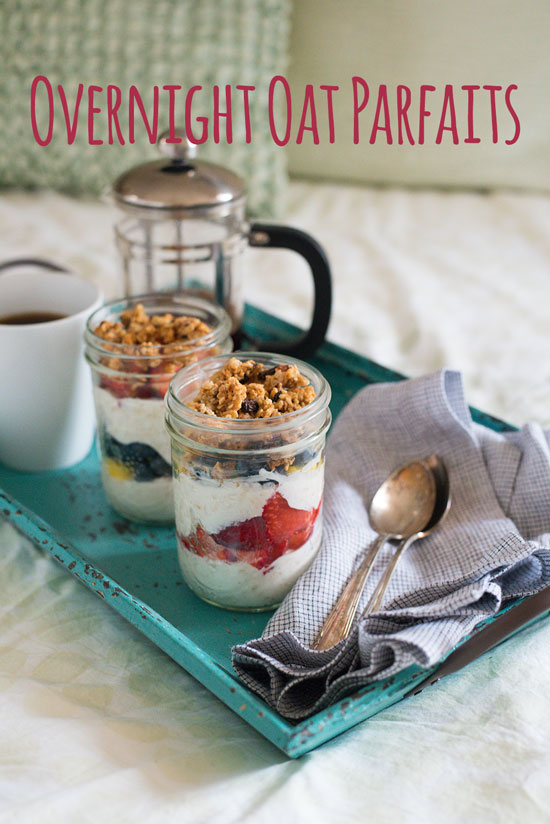 Serves: 2
Prep Time: 15 minutes plus refrigeration
Ingredients:
1 cup Greek yogurt
1 cup old-fashioned rolled oats
3/4 cup milk
1 tablespoon honey
1 teaspoon vanilla extract
1 cup fruit (we used blueberries, sliced strawberries and chopped mango)
1/4 cup NatureBox Banana Bread Granola
2 pint-sized mason jars
Directions:
1. In medium bowl, stir together yogurt, oats, milk, honey and vanilla. Jars can be assembled and refrigerated overnight at this point (colors of fruit may bleed into oat mixture), or refrigerated separately and assembled before serving for a cleaner look.
2. To assemble jars, spoon 1/4 of oat mixture into each jar. Top with 1/4 of fruit mixture; repeat layers once. Finish with granola.
In a time crunch? Check out our other 3-step recipes!
Get more healthy ideas and delicious snacks by joining NatureBox. Sign up today to kick off your membership with a free trial!
Lori Yates is a Detroit-area food writer and recipe developer. She is the author of Foxes Love Lemons, where she posts special yet simple original recipes, tips from her culinary school adventures and restaurant reviews. Her mission is to encourage people to enjoy the act of cooking at home. You can follow her on Facebook and Twitter @foxeslovelemons.