Looking for a fun easy cooking activity to do with your kids? Pancake Pops are the ideal way to serve pancakes to kids! You can serve your pancake pops with different syrups & toppings to make the dipping fun!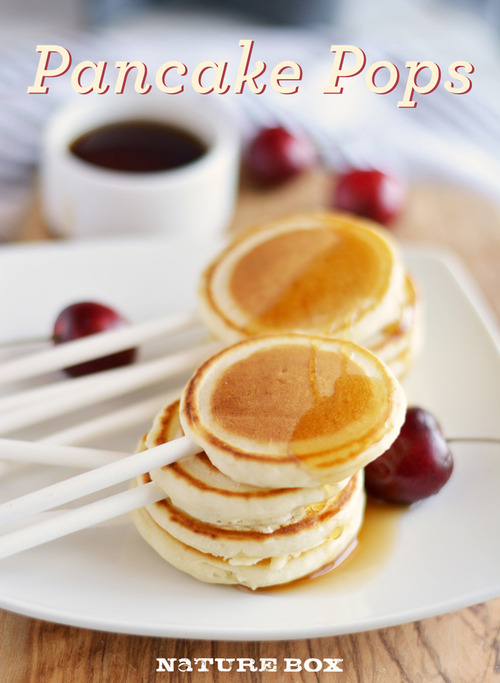 Makes: 20-30 Pancake Pops
Ingredients:
1-1/2 cups all-purpose flour
3-1/2 teaspoons baking powder
1 teaspoon salt
1 tablespoon white sugar
1-1/4 cups milk
1 egg
3 tablespoons butter, melted
About 20 Cookie Sticks
Syrup (optional)
Directions:
1. In a medium bowl, combine all dry ingredients (flour, baking powder, salt and sugar). Then add milk, egg and melted butter. Whisk well.
2. Pre-heat griddle or non-stick pan. Scoop a small amount of pancake mix to form a circle. About 1 tablespoons and add a cookie stick. Cook until bubbles start to form. Carefully, flip pancake and cook until light brown.
3. Serve with a variety of syrups and enjoy a like a pancake fondue!
Tip: Use a ketchup dispenser to pour the pancake mix easily and form a perfect circle.
Still hungry? Try our other adorable 'n delicious mini foods!
Get more healthy ideas and delicious snacks by joining NatureBox. Enter coupon code NATURE for 25% off your first month subscription!
Angie shares yummy food, easy DIY crafts, adventures of motherhood, and everything in between on her blog Little Inspiration. Check out more of herhealthy and fun recipes here.