Romesco, a Spanish red pepper sauce, makes for the perfect summer recipe because it's made with fresh tomatoes and basil, and requires no cooking whatsoever. Add it to al dente pasta and pack it up for a picnic. Better yet, serve it to your loved ones at your next backyard party!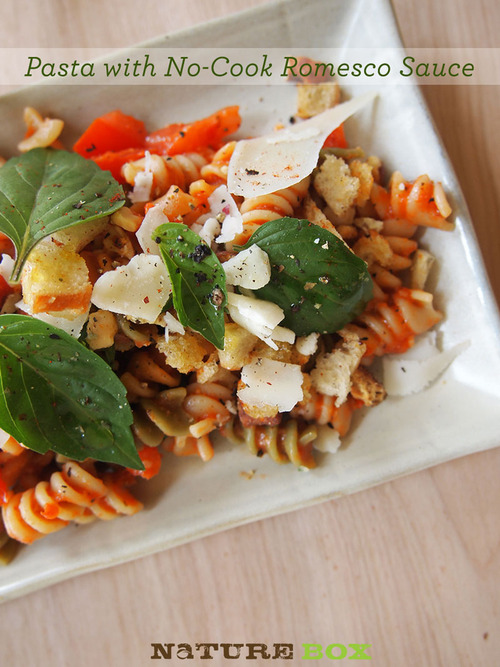 Serves: 4
Prep time: 10 minutes
Cook time: 10 minutes
Ingredients:
4 cups tri-color rotini (or favorite pasta)
1/2 cup NatureBox Salsa Spiced Nut Mix
2 cloves garlic
2 cups jarred marinara sauce
2 roasted bell peppers from a jar
1/4 teaspoon paprika
Pinch of cayenne pepper (optional)
Kosher salt
Freshly ground black pepper
2 slices day-old bread, diced
Olive oil
1 ripe tomato, diced (for garnish)
1 cup basil, hand torn (for garnish)
Parmesan shavings (for garnish)
Directions
1. Cook rotini until al dente. Drain and set aside.
2. While the pasta is cooking, prepare the sauce. In a food processor, blend together Salsa Spiced Nut Mix, garlic, marinara sauce, roasted bell peppers and paprika until well-combined. Season with cayenne pepper, salt and pepper to taste and desired spice level. Set aside.
3. Make croutons: In a skillet over medium-high heat, heat 3 tablespoons olive oil and toss with the bread cubes. Toast till golden brown, about 3 minutes.
4. Toss together pasta and sauce and serve room temperature with croutons and garnishes of tomato, basil and Parmesan, if using.
Still hungry? Try these other recipes with yummy tomatoes!
Get more healthy ideas and delicious snacks by joining NatureBox. Enter coupon code NATURE for 25% off your first month subscription!
A devout student of flavor, Tsz documents her food adventures at Gastrophoria. In the rare moments she's not planning her next meal, she grows businesses through unique design solutions.