from the NatureBox Snack Kitchen
If school just started and you're already hearing "but Mom, not another PB&J sandwich!" then this smoothie recipe is for you! It's perfect for after school snackers who are on-the-go!

Serves 1 as a lunch/meal smoothie or 2 as a snack.
Ingredients:
1/2 cup milk (any kind you prefer: cow's, almond, soy, etc)
1/3 cup berry Greek yogurt
1/4 cup rolled oats (raw)
1/2 cup frozen berries
1 small banana (fresh OR frozen)
2 TBSP peanut butter (almond or sunflower seed butter ok too!)
Optional Add-Ins:
1 TBSP ground flaxseed
T TBSP chia seeds
1 scoop protein powder
2-3 ice cubes, depending on how thick you like your smoothies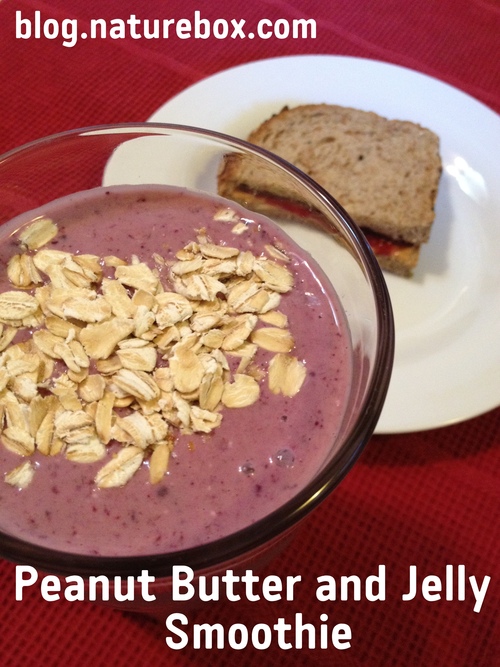 Instructions:
In a blender, layer oats, banana, berries, nut butter, Greek yogurt, milk, and any add-ins. Make sure you put the oats in first at the bottom so it can get well-blended.
Pulse until berries and banana are broken up and then "liquify" until well-blended. You may need more or less ice depending on whether your fruits are frozen or fresh and how thick you like your smoothie.
Note: This is a VERY filling smoothie, thanks to the Greek yogurt, oats, and nut butter. For little ones, we recommend splitting it into 2 servings.
Tip: It freezes beautifully so you can eat half now and save the rest for later.
Tell us: How do you normally eat your PB&J??
Get more healthy ideas and delicious snacks by joining NatureBox. Enter coupon code NATURE for 25% off your first month subscription!