Recipe by Kristianne of
Peppery Pistachio-Crusted Salmon is one of our all-time favorite dishes here at NatureBox. Since we got our hands on this recipe, we've made it at least 4 times! The crunchy pistachio coating is as heart-healthy as it is decadent- you'll swear off frozen fish sticks forever!
We promise that no matter how intimidated you may be by cooking fresh fish at home, this recipe couldn't be simpler. Plus, the act of shelling the pistachios is very therapeutic and relaxing at the end of the day. Enjoy!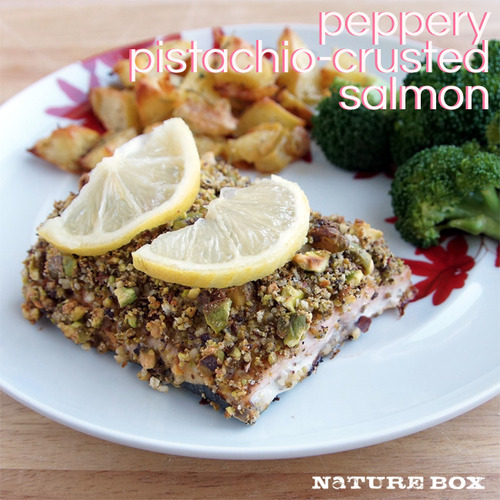 Ingredients:
2 pound salmonfillet
1 lemon
3/4 cup shelled NatureBox Peppery Pistachios
1/4 cup panko bread crumbs
2 tablespoons olive oil
Salt and pepper, to taste
Directions:
Preheat oven to 375 degrees F. Cutsalmoninto 2-3 pieces and place skin-side down onto a baking sheet. Squeeze the juice from half of the lemon over thesalmonfillets.
Coarsely grind Peppery Pistachios in a food processor, or crush with the back of a butter knife. Transfer the ground pistachios to a small bowl and add the panko bread crumbs and olive oil. Add a small pinch of salt and pepper. Mix with a spoon until evenly wet.
Carefully spoon the pistachio mixture onto thesalmonfillets. Press the mixture onto thesalmonwith the back of the spoon until the fillets are fully coated.
Bake for 15-20 minutes untilsalmonis lighter pink in color and it flakes easily with a fork. Thesalmonwill continue to cook for a few minutes after removing from the oven, so be careful not to dry it out by taking it out too late!
Use the remaining half of the lemon for garnish and serve immediately.
Note:
You can substitute the
salmon
for a lighter fish, such as tilapia.
Get more healthy ideas and delicious snacks by joining
. Enter coupon code NATURE for 25% off your first month subscription!
Kristianne is the founder of
, where she shares everyday recipes that focus on cooking/baking from scratch.