Pace your snacks for the long haul! We've learned that snacking can be an important source of nutritionally dense foods in our diets and if you have a family, snacks can be an important way to help kids get in all the nutrients they need. Snacks are also used to provide energy to carry you to your next mealtime but many people struggle with when to fit snacks into busy schedules. And while there's no one-size-fits-all approach to snacking, the following tips may help you strategize: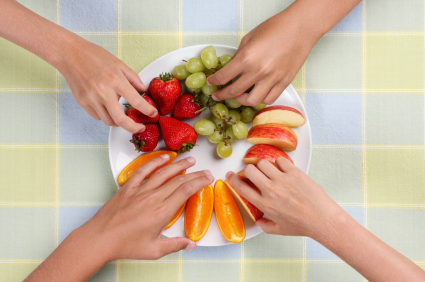 If you know you or your loved ones have more than 4-5 hours between meals and tend to be ravenous at the next mealtime, plan a snack midway between meals. This means that you might need to plan, prepare or assemble the snack hours in advance or in the morning before heading out for the day. For most people, a snack between lunch and dinner will be common, depending upon what time you usually sit down in the evening.
Timing your snack midway between meals allows you to arrive at the table more even-keeled and helps prevent you from grabbing handfuls of snacks from the fridge or pantry as you prepare or cook. Landing at the table with a reasonable amount of hunger will also help people make better food decisions and encourages loading up on nutrient rich fruits and vegetables first.
Active people tend to feel more energetic after a small, easily digested, carbohydrate-containing snack (such as fruit or a granola bar) before their activity or exercise.
Refueling after your activity is important and helps to ensure that you will not be famished hours later. To refuel after activity, have a food with carbohydrate and some protein (such as low-fat milk or yogurt or a handful of trail mix).
Depending on where you'll be when you're snacking and whether you'll have a fridge handy, energy foods may need to be portable, convenient, and have a long shelf life if you keep them in a desk or car. Some examples of foods that fit the bill for portability are apples, granola bars, trail mix, granola, energy bars, or nut butter packets that can be enjoyed on the go.
Keep in mind that the size of your snack will vary greatly depending on how much fuel your body needs, how much time before your next meal and what activities you have planned. Your idea size and timing of your snack may even change over time. Have fun with your snacks and stay flexible! Experiment with the size and timing of your snacks you eat to discover the best combination for your body to help with sustained energy.
Get more healthy ideas and delicious snacks by joining NatureBox. Enter coupon code FEBPROMO for 50% off your first month subscription!
Kat Brown MS RD RYT is a San Francisco Bay Area based Registered Dietitian and Yoga Teacher. As a nutrition counselor, writer, cook, and yogini she seeks to inspire others to nourish themselves and live balanced, fulfilled lives.