from the NatureBox editors
If you're anything like us, you just.can't.break.away from Pinterest. We love finding clever snack ideas and ingenious meal planning strategies that we would never have thought up ourselves.
We know that our members use their NatureBox snacks in really creative ways every month and we want to see how you snack!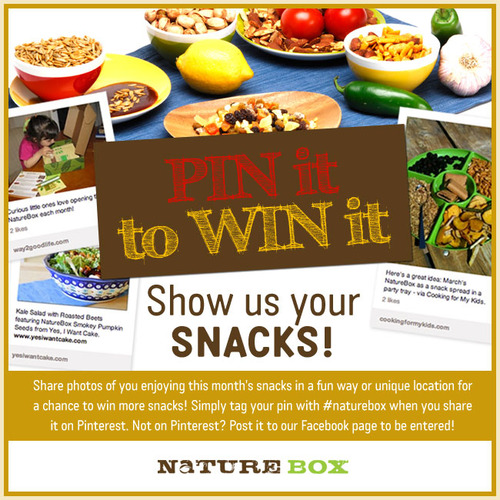 Entering couldn't be easier:
1. Upload your photo to Pinterest of you (or your family, friends, colleagues, etc) enjoying your NatureBox snacks in a fun way or in a unique location. In the caption, tag #naturebox so we can find your pin and briefly tell us how you used your NatureBox snack.
2. Leave a comment on this post with a link to your pin.
3. Not on Pinterest? That's ok too- share the photo on our Facebook wall to be considered. (In the meantime, you can request a Pinterest invite here!)
The contest will be open until Friday August 3rd at 11:59PM PST. We'll select ONE photo who will win a month of NatureBox snacks. We'll also randomly select TEN photos who will receive snack samples.
It gets better- you can enter as many times as you'd like using snacks from ANY NatureBox. What are you waiting for- start pinning!
Get more healthy ideas and delicious snacks by joining NatureBox. Enter coupon code NATURE for 25% off your first month subscription!