The best part about this recipe is its versatility. Serve the chicken tortas as they are with some avocado sauce, or add them to hoagie buns for a hearty lunch.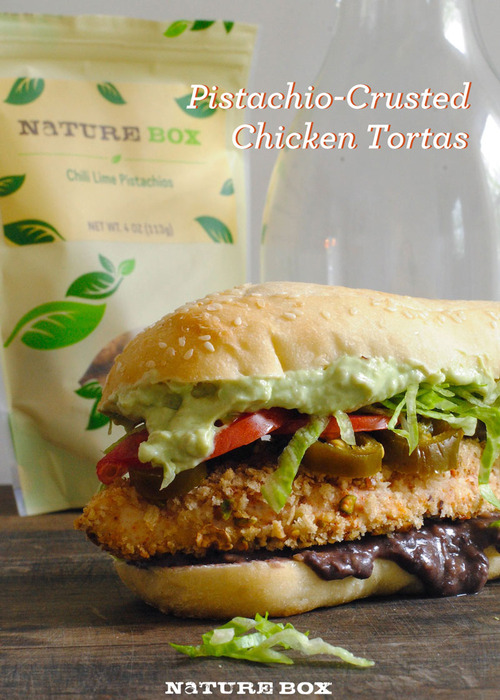 Serves: 4
Prep time: 35 minutes
Cook time: 15 minutes
Ingredients:
For the Chicken:
1 teaspoon cumin
1/2 teaspoon paprika
1/4 teaspoon cayenne
1/4 teaspoon cinnamon
1/4 teaspoon kosher salt
2 large boneless, skinless chicken breasts, cut in half lengthwise then pounded to 1/2-inch thickness
3/4 cup whole wheat flour
2 eggs
3/4 cup whole wheat panko breadcrumbs
1/4 cup shelled NatureBox Chili Lime Pistachios, pulsed in food processor until finely chopped
Organic nonstick cooking spray
For the Avocado Sauce:
1 ripe avocado, peeled, pitted and mashed
Juice of 1 lime
2 tablespoons light sour cream
For the Tortas:
4 hoagie buns
1 can (15 ounces) black beans, roughly mashed with their liquid
1/3 cup pickled jalapeños
2 Roma tomatoes, thinly sliced
2 cups lettuce, shredded
Directions:
1. Prepare Chicken: Preheat oven to 425 degrees F. In small bowl, stir together cumin, paprika, cayenne, cinnamon and salt. Sprinkle both sides of chicken pieces with spice mixture. Place flour in shallow dish. In second shallow dish, lightly whisk eggs. In third shallow dish, combine breadcrumbs and chopped pistachios.
2. Spray rimmed baking pan with cooking spray. Working with one piece at a time, dip chicken in flour, shaking off excess, then egg and breadcrumb mixture. Place on prepared baking pan. Bake 15 minutes or until lightly browned and internal temperature reaches 165 degrees F, turning once.
3. Meanwhile, prepare Avocado Sauce: In small bowl, stir together all ingredients.
4. Make the Tortas: Spread one side of hoagie buns with mashed black beans. Over beans, place chicken, jalapeños, tomatoes, lettuce and Avocado Sauce. Place hoagie bun tops over tortas.
Pics or it didn't happen! When you whip up this recipe, post it on Instagram or Facebook with the hashtag #natureboxrecipe so we can like and reshare it!
Get more healthy ideas and delicious snacks by joining NatureBox. Sign up today to get 50% off your first box!