Spinach- a real powerhouse!
by NatureBox Nutritionist Kat Brown, MS RD RYT
OK Popeye, you were right… spinach is a powerhouse! Among other nutrients, spinach contains high levels of vitamin A, B vitamins and iron. Keep in mind that the iron in spinach is best absorbed when there is a source of vitamin C eaten in tandem, so try it with a squeeze of lemon juice or some red peppers.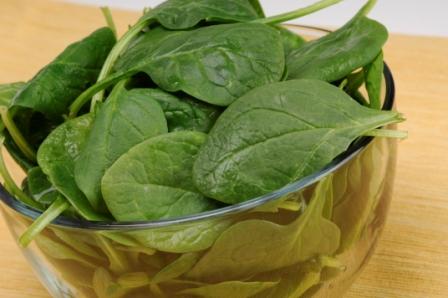 Spinach is tasty wilted into warm pasta, grain dishes, and soups. To easily wilt spinach for a pasta dish, layer handfuls of spinach in your colander just before you drain the hot pasta and cooking water. Pour the pot of hot water and cooked pasta over the spinach into the colander- the hot water will quickly wilt down the spinach and still drain out from your pasta. Then toss the pasta and wilted spinach with the sauce of your choosing for a pasta dish that packs in a huge punch of nutrient-rich veggies with almost zero effort!
Raw spinach can be eaten as a salad or tossed into the blender before making your favorite yogurt or fruit smoothie. It might look a little funny to you at first, but we promise that you can't even taste the spinach at all. If your children are cautious about the color, we recommend calling it a "Green Slime" or "Green Monster" or "The Incredible Hulk" Smoothie – they will surely be excited for a snack fit for a superhero!
Get more healthy ideas and delicious snacks by joining NatureBox. Enter coupon code HEALTHY for 25% off your first month subscription!
Kat Brown MS RD RYT is a San Francisco Bay Area based Registered Dietitian and Yoga Teacher. As a nutrition counselor, writer, cook, and yogini she seeks to inspire others to nourish themselves and live balanced, fulfilled lives.