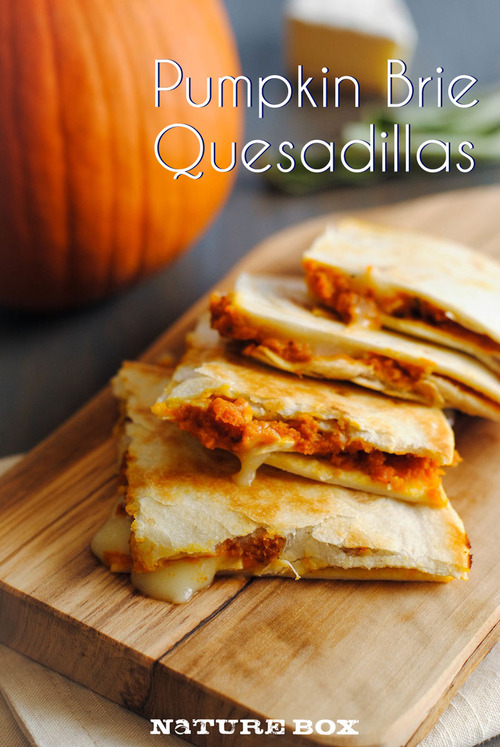 Serves: 4
Prep time: 5 minutes
Bake time: 6 minutes
Ingredients:
1-3/4 cups pumpkin puree (canned or fresh)
1 teaspoon chili powder
1 teaspoon finely chopped fresh sage
1/4 teaspoon cayenne
Nonstick cooking spray
8 small flour tortillas
5 ounces brie cheese, thinly sliced
Directions:
1. In small bowl, stir together pumpkin, chili powder, sage and cayenne.
2. Heat griddle over medium heat; spray with nonstick cooking spray. Place 4 tortillas on griddle and top each with 1/4 of the pumpkin mixture,1/4 of the cheese and a second tortilla. Cook 4 to 6 minutes or until tortillas are golden and cheese melts, turning quesadillas halfway through cooking. Cut each into quarters and serve warm.
Still hungry? Try our other pumpkin recipes!
Get more healthy ideas and delicious snacks by joiningNatureBox. Sign up today to get 50% off your first box!
Lori is a Detroit-area food writer, recipe developer and restaurant reviewer. She's usually found in the kitchen cooking up something that undoubtedly involves beets, lemons or coconut for her blog, Foxes Love Lemons. Check out more of her recipes here.