from the NatureBox editors
These muffins have all of the flavors of fall but are made from real ingredients that you can feel good about! An oil-free muffin recipe? It's about time, we say! These are still rich and moist, thanks to the banana and pumpkin.

Use oat flour to make these gluten-free and carob chips to make to make them vegan.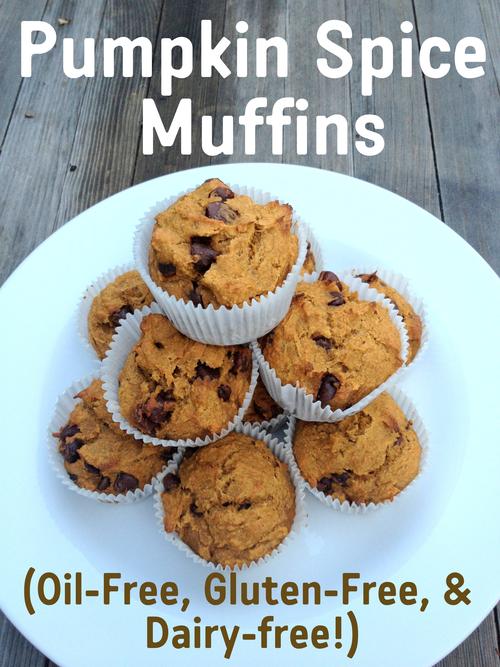 (p.s. with no egg in the batter, you can also feel free to lick the bowl 🙂

Ingredients:
1 banana, mashed
1 15oz can 

pumpkin

1/4 cup maple syrup (honey, brown sugar, or sucanat also works well)
1 tsp vanilla
2 cup oat flour (or whole wheat flour)
1/2 tsp baking soda 
1/2 tsp salt
1 tsp cinnamon
1 tsp pumpkin pie spice
1 cup carob or chocolate chips
Directions:
Heat oven to 375 degrees. Mash banana in medium bowl, then stir in pumpkin, maple syrup, and vanilla to combine.
In a large bowl, mix dry ingredients, then add in the wet ingredients and mix well. Use a fork to smooth out any lumps from the banana.
Stir in chocolate chips, if using. Walnuts and cranberries are other good options to mix in!
Fill 12-count muffin tin pan with paper cups. Distribute the batter evenly between the 12 muffin tin cups. Bake for about 20-22 minutes until centers are firm.
These taste best out of the oven but are great days later after popping them into the microwave to warm up. Or, wrap in plastic wrap and zip top bags and freeze for later (but we'd be surprised if you couldn't eat them all right away! 🙂
Get more healthy ideas and delicious snacks by joining NatureBox. Enter coupon code NATURE for 25% off your first month subscription!