from the NatureBox editors
The votes are still out on your favorite snack from June's NatureBox (have you voted over on our Facebook page yet??) but we keep hearing our community hoot and holler about the Citrus Kick Almonds.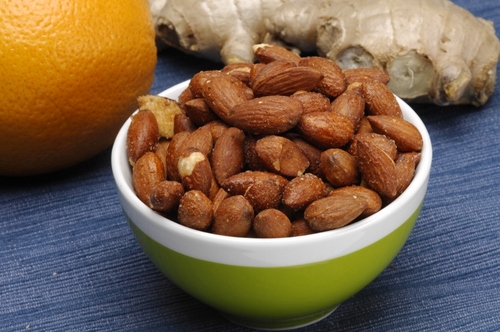 What we like best about this snack is that the name and look of the almonds might imply that they are a citrus-y sweet snack but when you eat them, you're pleasantly surprised by the kick from ginger and garlic, giving these almonds some serious umami.
Fun trick: instead of crunching away on the almonds first, let them linger in your mouth to really get all of the zesty ginger flavors.
Of course, these are perfect by the handful but they taste great on salads (roughly chop them so they go farther on a large salad). Citrus Kick Almonds also make a great addition to a cheese plate at a summer picnic or get together. They pair nicely with a tangy goat cheese and add some kick to soft and creamy fresh mozzarella.
Tell us: how are YOU enjoying your Citrus Kick Almonds?
Get more healthy ideas and delicious snacks by joining NatureBox. Enter coupon code NATURE for 25% off your first month subscription!