Quinoa salad is brightened up with fresh mango, strawberries and blueberries! It's balanced with a tart vinaigrette and refreshing mint.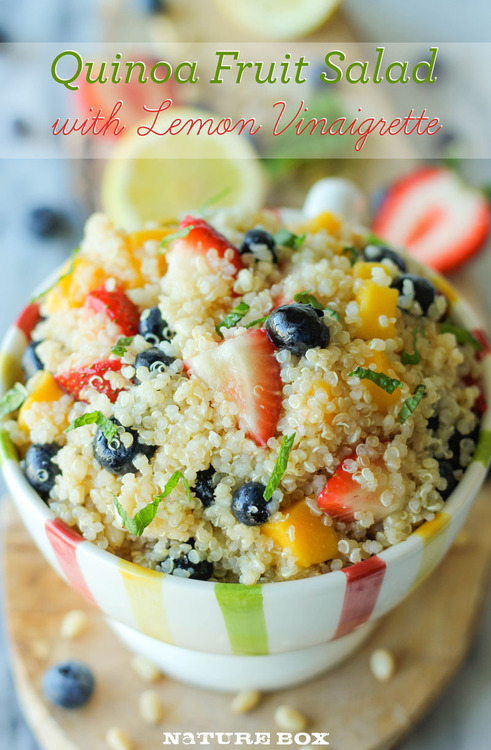 Serves: 4
Prep time: 10 minutes
Ingredients:
2 cups cooked quinoa
1 mango, peeled and diced
1 cup strawberries, quartered
1/2 cup blueberries
2 tablespoons pine nuts
Chopped mint leaves, for garnish
For the lemon vinaigrette:
1/4 cup olive oil
1/4 cup apple cider vinegar
Zest and juice of 1 lemon
1 tablespoon sugar
Directions:
1. In a large bowl, combine quinoa, mango, strawberries, blueberries and pine nuts.
2. To make the vinaigrette, whisk together olive oil, apple cider vinegar, lemon zest and juice, and sugar in a small bow. Toss into the salad. Serve immediately, garnished with mint leaves.
Pics or it didn't happen! When you whip up this recipe, post it on Instagram or Facebook with the hashtag #natureboxrecipe so we can like and reshare it!
Get more healthy ideas and delicious snacks by joining NatureBox. Sign up today to get 50% off your first box!