Amp up the fiber in your diet with this salad packed with quinoa, lentils and grilledd vegetables. We like using in-season veggies like asparagus, red bell peppers and summer squash but fortunately, this selection is pretty easy to find year-round.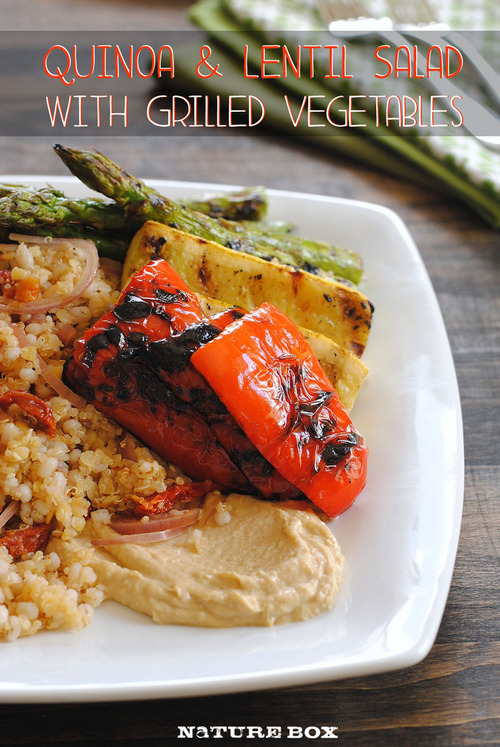 Serves: 4
Prep Time: 50 minutes
Ingredients:
1/3 cup pearled barley, rinsed and drained
1/3 cup quinoa, rinsed and drained
1/3 cup red lentils, rinsed and drained
1 garlic clove, minced
1 small shallot, thinly sliced
1/4 cup drained julienne-cut sun-dried tomatoes with Italian herbs in oil, plus 1 tablespoon oil from jar
1 bunch asparagus, ends trimmed
1 red bell pepper, seeded and quartered
1 summer squash or zucchini, halved lengthwise, then halved crosswise
Olive oil nonstick cooking spray
1 cup prepared hummus
Directions:
1. Bring a large pot of water to boil over medium-high heat. Add barley; set kitchen timer for 20 minutes. When timer runs out, add quinoa and lentils; cook for 20 minutes longer or until all grains are tender; remove from heat. Drain grains in a fine mesh strainer; return grains to pot (off the heat); cover and let stand 5 minutes.
2. Meanwhile, in large bowl, stir together shallot, garlic, sun-dried tomatoes and their oil.
3. While grains are cooking, grill vegetables: Preheat grill for direct grilling over medium-high heat. Lightly spray vegetables with cooking spray; transfer to hot grill rack. Cook 4 to 6 minutes or until all vegetables are tender, turning occasionally; removing each one as it finishes cooking.
4. To serve, pour grains into bowl with sun-dried tomato mixture, toss to combine. Spread hummus on serving platter. Spoon grain salad over hummus and arrange grilled vegetables on top.
Still hungry? Check out these 5 salad ideas.
Get more healthy ideas and delicious snacks by joining NatureBox. Enter coupon code NATURE for 25% off your first month subscription!
Lori is a Detroit-area food writer, recipe developer and restaurant reviewer. She's usually found in the kitchen cooking up something that undoubtedly involves beets, lemons or coconut for her blog, Foxes Love Lemons. Check out more of her recipes here.