from the NatureBox editors
This week we have been discussing the importance of protein in your daily diet and have covered a variety of sources of protein such as lean meat, eggs and vegetarian-friendly quinoa. You are likely familiar with ways to prepare and enjoy lean meats and egg dishes but may be asking yourself: "what to do with quinoa?"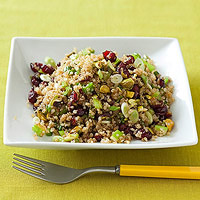 {Photo Credit: Parents}
You can find quinoa in the bulk food bins if your grocery store has such a section. If not, quinoa is often found near the rice or couscous in the grain aisle. Ok, so now what? We've rounded up a handful of recipes that either our community recommends or have been developed by bloggers that we love. These recipes can be used as either a main course or side dish and most of them make for wonderful leftovers for lunch or dinner the next day. 
Toasted Quinoa with Cranberries from Parents
Quinoa Casserole from Cook With 5 Kids
(Sara notes that this recipe is a favorite with her 4 year old and is perfect for leftovers)
Two-Bean Quinoa Salad from The Granola Chronicles
Black Bean and Tomato Quinoa Salad from Epicurious
Sweet Potato Quinoa Collard Wraps from For the Love of Kale
Quinoa Black Bean Burgers from All Recipes
Quinoa Stuffed Peppers from Vegetarian Times
Whew- well there you have it! A delicious collection of quinoa recipes that would be perfect for a variety of occasions. The weekend is almost here, which means it's a perfect opportunity to spend a little extra time in the kitchen experimenting with a new recipe for a new "grain".
Let us know if you try any of these recipes and how they turned out for you!
In good health,
The NatureBox Team 
Get more healthy ideas and delicious snacks by joining NatureBox. Enter coupon code HEALTHY for 25% off your first month subscription!