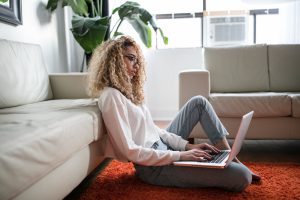 In 2021, the work-from-home trend continues. Instead of preparing for everyone to return to the office, it's time to consider how to maintain your company culture when your employees work across county, state, and country lines.
Culture is the values, expectations, language, beliefs, and practices that guide and inform the action of everyone at the company. It's easy for remote employees to feel disconnected from the mission and where they fit into it when they're not physically in the office for 40 hours a week. 
This is where leadership steps in. To manage a virtual team, make each everyone feels valued for who they are and understand their purpose at the company. 
If you want happier, more aligned employees, here are a few tips to help you cultivate a strong remote work culture with your virtual team.
Focus on fostering connection
Gallup found that employees who don't work in the same location as their manager are less likely to say someone cares about them at work or that they're recognized for their contributions. This leads to employee disengagement, which results in lower productivity and higher turnover. 
With a remote team, it's as important for you to connect with your employees as it is for them to connect with each other. Here are two ways to do that.
Create a Slack group to stay connected
In 2019, a cluster of cubicles kept your close-knit team together. Now, you have Slack to make up for the miles between everyone.
It's important to have a channel for your employees to send direct messages to each other for personal conversations and to create collaborative channels for team projects, especially in the digital age. It becomes even more crucial for a virtual team.
Research from EY's Center for Talent Innovation found over ⅓ of remote workers feel the greatest sense of belonging when their colleagues check in with them, both personally and professionally. Slack's features allow for that.
Set up weekly video check-ins with your team
As a leader, it's important to play an active role in your employee's professional life. According to a new study on remote workers by Stoneside, 30.1% of respondents said they feel less connected to their manager. 
In this day and age, that means over-communication is simply not possible. 
Schedule a video check-in, send a quick Slack message, or request a quick meeting to see how their day is going. Whichever avenue you decide, understand that recognition, praise, and clear expectations are the recipe for success. This includes personal accolades. We're all humans, after all.
Bring perks of the office to the home
Does your company offers wellness options like nutritional snacks, group fitness classes, and free massages in the office? Part of maintaining the culture involves giving your employees those same perks remotely. 
The only difference? These two benefits can be enjoyed from the comforts of their home.
Replicate the snack room with SnackPass
Embody your company's culture of wellness by giving your team access to healthy, functional snacks that taste delicious. A NatureBox SnackPass is the easiest and fastest way to let your employees pick the good for you snacks they love that shows them you care. 
With company-funded or employee-funded options, this is an office perk you can't afford to pass up for your virtual team. Boost your remote employee engagement and morale with wellness snacks that don't require a trip to the store..
Distribute work-from-home stipends
From at-home office supplies to wellness resources, there are plenty of ways to bring perks of the office to your employees remotely.
Ensure your team has everything they need to perform their job to the best of their ability. A company computer, upgraded Wi-Fi, and access to a quality cybersecurity system enables employees to deliver consistent, high-quality work.
Encourage your employees to use their stipend on virtual fitness or meditation classes. While your employees may not be able to enjoy yoga at the park together, they can still get their sweat on at home. 
This acknowledgment of your team as individuals shows you care and goes a long way if your company identifies as having a wellness-focused culture.
Actively encourage participation in activities aligned with company values
When it comes to company values, we know the culture is those values being enacted by the employees who work there. But what happens if your virtual team loses sight of the mission?
Gallup data shows that about 60% of employees (virtual or not) cannot fully agree that they know what their company stands for. It's your job as the leader to clearly communicate those values and lead by example. Here are two ways to do that.
Make health and wellness a priority
If your company adopts a wellness-focused culture, one way to cultivate a strong remote work culture with your virtual team is to advocate for a more humanized workplace. 
What does this mean? Prioritize your employee's physical, mental, and emotional health. Allow for mental health days, personal time off, no meeting days, and other offerings that make sense for your team. 
Don't forget the team-building activities
Another way to maintain your company culture with remote employees? Virtual happy hours, game nights, and trivia!
Team bonding is important to boost morale and increase employee engagement. Depending on your company values, it could be a core part of strengthening your team's remote work culture.
Maintaining culture in a virtual environment goes beyond ensuring your team has the tools to work remotely. A reliable internet connection and work computer give your employee's the ability to do their job. But you should do your best to foster connection remotely and remind your team they're valued, respected, and a core part of your company's mission.