Creamy, almost nutty-flavored roasted garlic is paired with the comforting flavor of NatureBox Sour Cream and Onion Almonds. At your next party, pair this dip with crudites, pita chips or toasted baguette slices.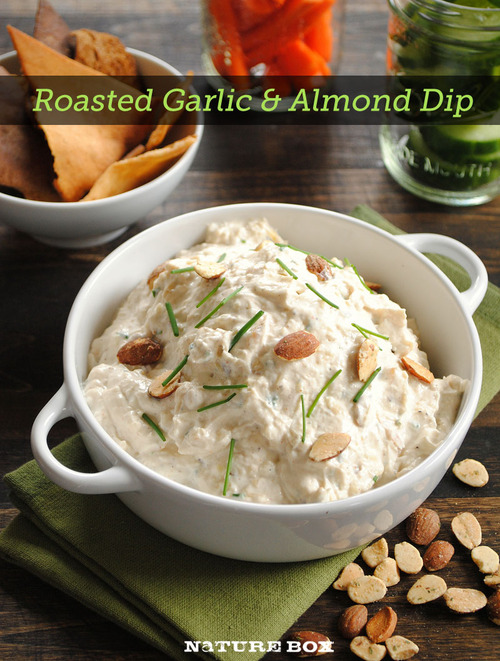 Makes: 1-1/4 cups dip
Prep time: 15 minutes
Cook time: 50 minutes
Ingredients:
1 head of garlic
1 teaspoon olive oil
Scant 1 cup low fat Greek yogurt
1/4 cup low fat mayonnaise
1/4 cup shredded Parmesan cheese
2 tablespoons NatureBox Sour Cream & Onion Almonds, roughly chopped, plus additional for garnish
1 tablespoon chopped fresh chives plus additional for garnish
1 teaspoon sherry vinegar
1/4 teaspoon ground black pepper
1/4 teaspoon cayenne pepper (optional)
Directions:
1. Preheat oven to 400 degrees F. Slice 1/4-inch off top of head of garlic. Place garlic cut side up on foil and drizzle with oil. Wrap garlic in foil to seal. Place on baking sheet and bake until garlic cloves are dark brown and very soft, about 50 minutes. When cool enough to handle, squeeze out garlic cloves into medium bowl and mash with fork. (This step can be done up to 3 days in advance).
2. Add remaining ingredients to bowl and stir to combine. Transfer to serving bowl; cover and refrigerate at least 2 hours or up to 3 days.
3. To serve, garnish with chives and almonds. Serve with pita chips and/or cut vegetables.
Get more healthy ideas and delicious snacks by joining NatureBox. Sign up today to get $10 off your first box!