We love traditional guacamole just as much as the next person! But here, we've tried a fresh, fun take on this party favorite by adding roasted red bell peppers. Serve with your favorite tortilla chips or Masa Crisps!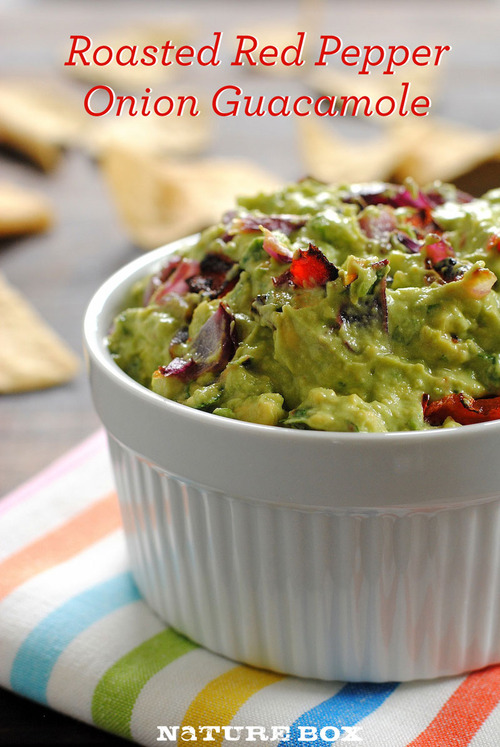 Makes: about 2 cups
Prep time: 10 minutes
Cook time: 45 minutes
Ingredients:
Olive oil nonstick cooking spray
1 red bell pepper, cut into 1/2-inch pieces
1 red onion, cut into 1/2-inch pieces
2 avocados, peeled and pitted
Juice of 1 lime
1 garlic clove, minced
1/4 cup chopped cilantro
2 tablespoons Greek yogurt
1/2 teaspoon cumin
1/4 teaspoon kosher salt
1/4 teaspoon red pepper flakes
1 bag NatureBox Masa Crisps (optional, for serving)
Tortilla chips (optional, for serving)
Directions:
1. Preheat oven to 400 degrees F. Spray large rimmed baking pan with cooking spray. Spread bell pepper and onion in single layer on pan; lightly spray with cooking spray. Roast 40 to 45 minutes or until vegetables are deep brown, stirring every 15 minutes.
2. Place avocados in medium bowl, lightly smash with fork. Add remaining ingredients, including roasted red pepper and onion; stir until well combined. Serve immediately.
Still hungry? Check out these 5 salad ideas.
Get more healthy ideas and delicious snacks by joining NatureBox. Enter coupon code NATURE for 25% off your first month subscription!
Lori is a Detroit-area food writer, recipe developer and restaurant reviewer. She's usually found in the kitchen cooking up something that undoubtedly involves beets, lemons or coconut for her blog, Foxes Love Lemons. Check out more of her recipes here.