This weekend I'm curling up on the couch with a piping hot bowl of roasted red pepper tomato soup with asiago-feta grilled cheese. The combo is absolutely heavenly as the creamy soup balances out the salty notes of the grilled cheese.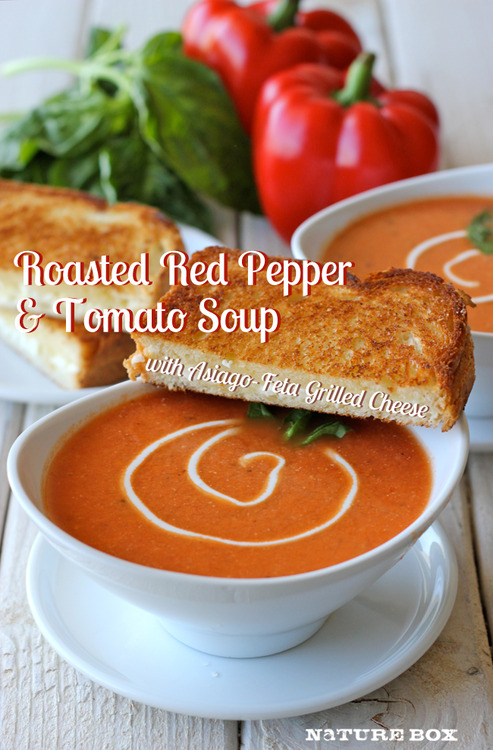 Comfort food never tasted so good. And healthy!
Serves: 3
Ingredients:
1 tablespoon olive oil
2 cloves garlic, minced
1 onion, diced
1 (12-ounce) jar roasted red peppers, drained and rinsed
1 (15-ounce) can diced tomatoes
3 cups vegetable stock
1/2 cup milk
1 bay leaf
Kosher salt and freshly ground black pepper, to taste
1 tablespoon balsamic vinegar
1 tablespoon chopped fresh parsley leaves, for garnish
For the Asiago Feta Grilled Cheese
:
1 tablespoon olive oil
6 slices whole wheat bread
3 tablespoons unsalted butter, softened (use less if you prefer!)
1/2 cup shredded asiago cheese
1/2 cup crumbled feta
Directions:
1.
Heat olive oil in a grill pan over medium-high heat.
Spread 1/2 tablespoon butter over 1 side of each bread slice. Turn the slices over and top 3 slices with asiago and feta and pleace remaining 3 slices of bread on top, buttered sides up. Add sandwich to pan and grill until the bread is golden and the cheese is melted, about 2-3 minutes per side.
2.
Heat olive oil in a large stockpot or Dutch oven over medium heat. Add garlic and onion and cook, stirring frequently, until onion is translucent, about 3-5 minutes. Stir in red peppers, tomatoes, vegetable stock, milk and bay leaf; season with salt and pepper, to taste.
3. Bring to a boil; reduce heat and simmer until slightly thickened, about 15-20 minutes. Remove bay leaf. Puree with an immersion blender. Stir in balsamic vinegar.
4. Serve immediately with grilled cheese, garnished with parsley.
Pics or it didn't happen!When you whip up this recipe, post it on Instagram or Facebook with the hashtag #natureboxrecipe so we can like and reshare it!
Get more healthy ideas and delicious snacks by joining NatureBox. Sign up today to get 50% off your first box!
Chung-Ah, the author behind Damn Delicious, loves to take simple ingredients and transform them into sophisticated and elegant meals.