Sweet, spicy and super simple. Let's do this.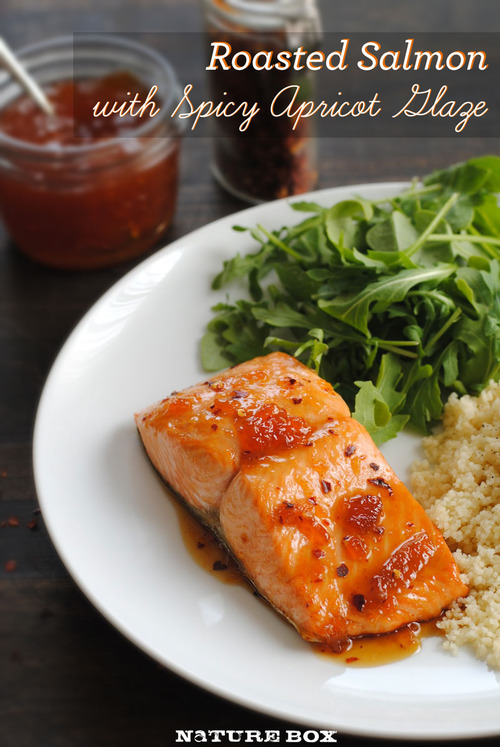 Serves: 4
Prep time: 5 minutes
Cook time: 14 minutes
Ingredients:
1/2 cup apricot preserves
1 tablespoon less-sodium soy sauce
1/2 teaspoon red pepper flakes
Olive oil nonstick spray
4 salmon fillets (about 1-1/2 pounds)
Directions:
1. Preheat oven to 400 degrees F. In small bowl, whisk together preserves, soy sauce and red pepper flakes until well combined.
2. Line rimmed baking pan with foil; spray foil with nonstick spray. Place salmon, skin side down, on prepared pan. Bake until salmon is almost opaque throughout and internal temperature reaches 140 degrees F, about 12 minutes.
3. Turn oven to broiler function (high heat). Brush preserve mixture over salmon. Broil 1 to 2 minutes or until glaze is bubbly. If desired, slip spatula between salmon skin and flesh to remove skin; serve immediately.
Need a side dish? Check out these ideas!
Get more healthy ideas and delicious snacks by joining NatureBox. Enter coupon code NATURE for 25% off your first month subscription!
Lori is a Detroit-area food writer, recipe developer and restaurant reviewer. She's usually found in the kitchen cooking up something that undoubtedly involves beets, lemons or coconut for her blog, Foxes Love Lemons. Check out more of her recipes here.