by Chung-Ah Rhee of Damn Delicious
This sandwich combines a homemade broccoli slaw, fresh avocado and roasted shrimp nestled in a freshly baked roll. It can easily be multiplied or halved, but I actually recommend the former because this is an unforgettable sandwich – so unforgettable that I actually made it three times in one week!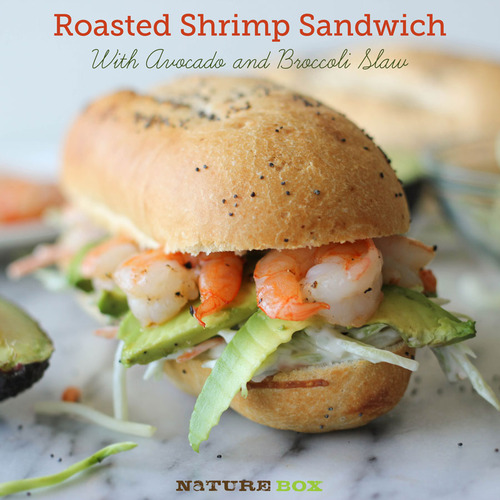 Serves: 4
Prep time: 10 minutes
Cook time: 8 minutes
Ingredients:
1/4 cup plus 2 tablespoons Greek yogurt

1/4 cup plus 2 tablespoons light mayonnaise

3 tablespoons apple cider vinegar

1 tablespoon sugar

3 cups broccoli slaw mix (broccoli, carrots and red cabbage)

1 pound medium shrimp, peeled and deveined

2 tablespoons olive oil

1/2 teaspoon kosher salt

1/2 teaspoon freshly ground black pepper

4 poppy seed rolls, split, toasted, for serving

1 avocado, halved, seeded, peeled and thinly sliced
Directions:
1. In a large medium mixing bowl, whisk together Greek yogurt, mayonnaise, apple cider vinegar and sugar. Pour mixture over broccoli slaw and stir using until well-combined. Cover and place in the refrigerator for at least 1 hour.
2. Preheat oven to 400 degrees F. Place shrimp onto a parchment-lined baking sheet. Add olive oil, salt and pepper, to taste, and gently toss to combine. Place into oven and roast just until pink, firm and cooked through, about 6-8 minutes.
3. Add roasted shrimp, broccoli slaw and avocado to split, warmed rolls.
Get more healthy ideas and delicious snacks by joining NatureBox. Enter coupon code NATURE for 25% off your first month subscription!
Chung-Ah, the author behind Damn Delicious, loves to take simple ingredients and transform them into sophisticated and elegant meals.