I love anything involving "caprese," and I love it even more with melted mozzarella in grilled cheese form. With balsamic roasted tomatoes, this is sure to be a crowd-pleaser or a quick and easy dinner for a busy weeknight meal!

Serves: 4
Prep time: 10 minutes
Cook time: 20 minutes
Ingredients:
4 Roma tomatoes, sliced
2 tablespoons balsamic vinegar
Kosher salt
Freshly ground black pepper
2 tablespoons olive oil
8 slices whole wheat bread
4 tablespoons unsalted butter
1 cup basil leaves
8 ounces low fat mozzarella, sliced
Directions:
1. Preheat oven to 400 degrees F. Line a baking sheet with parchment paper.
2. Place tomatoes onto prepared baking sheet. Add balsamic vinegar, a pinch each of salt and pepper, and gently toss to combine. Place into oven and roast until tomatoes are beginning to caramelize, about 10-15 minutes.
3.Heat olive oil in a grill pan over medium high heat.
4. Spread 1/2 tablespoon butter over 1 side of each bread slice. Turn the slices over and top with toasted tomatoes, basil leaves, mozzarella, and then top with another slice of bread, buttered side up, to create a sandwich. Repeat with remaining slices of bread to make 4 sandwiches.
5.Place sandwich in pan and grill, flipping once, until bread is golden and filling is heated through, about 2-3 minutes per side. Serve immediately.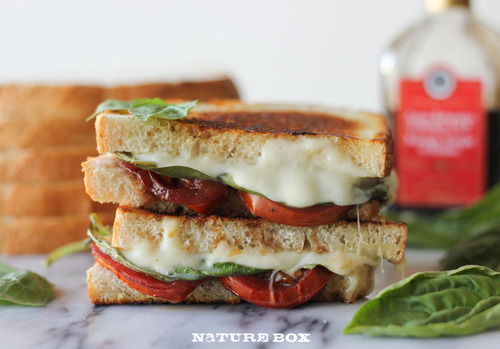 Get more healthy ideas and delicious snacks by joining NatureBox. Enter coupon code NATURE for 25% off your first month subscription!
Chung-Ah, the author behind Damn Delicious, loves to take simple ingredients and transform them into sophisticated and elegant meals.