Time to get a kick start on that New Year's resolution! Forget the boring salad routine – roasted vegetables, quinoa and creamy dressing take this salad to another level that'll leave you satisfied and guilt-free.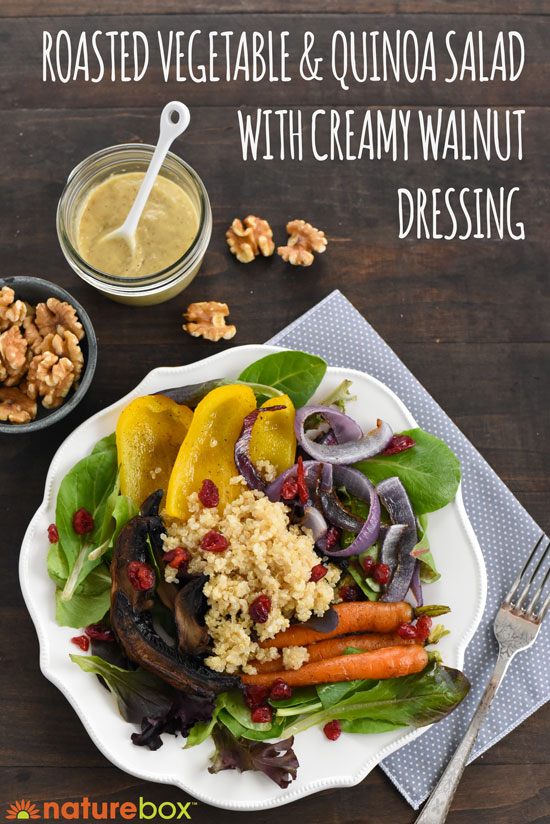 Serves: 4
Prep Time: 20 minutes
Bake Time: 15 minutes
Ingredients:
For the Salad:
1/2 cup quinoa
Olive oil cooking spray
6 small carrots, halved lengthwise
2 portobello mushrooms, cut into 1/2-inch-thick strips
2 yellow bell peppers, quartered and seeded
1 medium red onion, sliced into 1/2-inch-thick rings
Kosher salt and ground black pepper
1 package (5 ounces) organic spring mix
1/4 cup NatureBox Cranberry Medley
For the Creamy Walnut Dressing:
1/2 cup walnuts
1/4 cup extra virgin olive oil
2 tablespoons fresh lemon juice
1 tablespoon honey
1 teaspoon Dijon mustard
Kosher salt and ground black pepper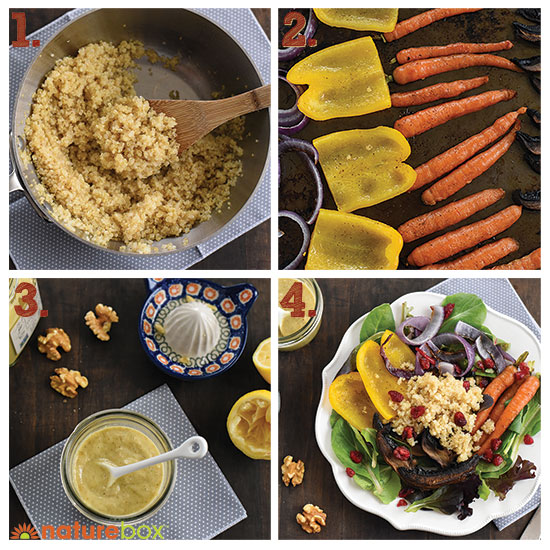 Directions:
1. Preheat oven to 400 degrees F. Prepare quinoa on stovetop according to package directions.
2. Meanwhile, lightly spray 2 rimmed baking pans with cooking spray. Divide carrots, mushrooms, bell peppers and onion between pans. Lightly spray with cooking spray and sprinkle with salt and pepper. Transfer to oven and roast 12 to 15 minutes or until vegetables are tender and lightly browned.
3. Make the Creamy Walnut Dressing: In food processor fitted with knife blade attachment, process walnuts, oil, lemon juice, honey and mustard until smooth and creamy. Season with salt and pepper to taste.
4. To serve, divide spring mix between 4 plates. Divide quinoa, roasted vegetables and Cranberry Medley over greens. Serve with Creamy Walnut Dressing.
In a time crunch? Try our other 3-step recipes!
Get more healthy ideas and delicious snacks by joining NatureBox. Sign up today to kick off your membership with a free trial!