If you have some leftover Citrus Chipotle Chickpeas, now's the perfect time to make them a meal with this substantial salad. Prep it in 15 minutes, and cook it in 15 minutes for a light but filling dinner.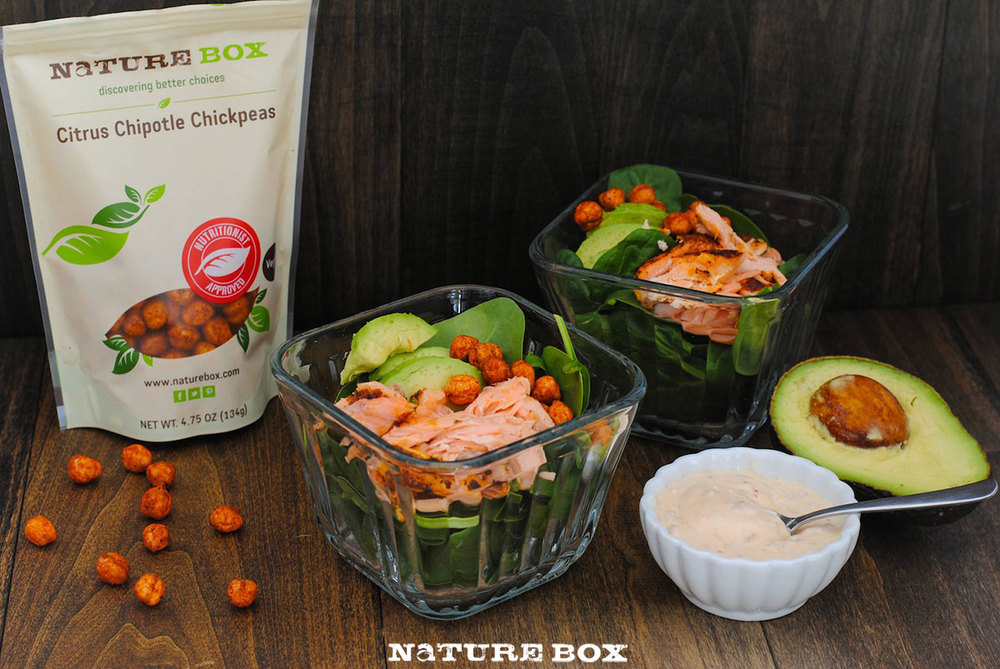 Serves: 4
Prep time: 15 minutes
Cook time: 14 minutes
Ingredients:
For the Salmon:
Organic nonstick cooking spray
1 pound salmon fillet
1/2 teaspoon chili powder
1/4 teaspoon cayenne
For the Chipotle-Lime Yogurt Dressing:
2 chipotles in adobo sauce, minced
Juice of 2 limes
1/2 cup Greek yogurt
4 teaspoons extra virgin olive oil
For the Salad:
4 cups packed baby spinach
1 avocado, peeled and sliced
Directions:
1. Make Salmon: Preheat oven to 400 degrees F. Spray small rimmed baking pan with nonstick spray. Place salmon on prepared pan; sprinkle with chili powder and cayenne. Bake 14 to 16 minutes or until salmon is opaque all the way through and flakes easily with a fork.
2. Meanwhile, make Chipotle-Lime Yogurt Dressing: In small bowl, stir together all ingredients.
3. Assemble salads with spinach, avocado, salmon and Citrus Chipotle Chickpeas. Serve with Chipotle-Lime Yogurt Dressing.
Still hungry? Check out our 7 ideas for turning snacks into meals!
Pics or it didn't happen! When you whip up this recipe, post it on Instagram or Facebook with the hashtag #natureboxrecipe so we can like and reshare it!
Get more healthy ideas and delicious snacks by joining NatureBox. Sign up today to get 50% off your first box!