When I think about planning a weeknight meal I tend to focus a little too much on the main dish. That is, I think about how I'll roast the chicken, or how I'll saute the fish.
I tend to totally forget about the side dish.
Generally, I prefer one-plate meals, anyway. (Some of my favorites include vegetarian chili and various quinoa salads) But at any rate, having a go-to side dish is like having a Swiss army knife; once you've figured out your favorite recipe, you'll be able to use it for nearly every occasion.
My current favorite side dish is this warm salad of torn kale and sliced red onion. It's super easy, requires no measuring and cooks up in 10 minutes.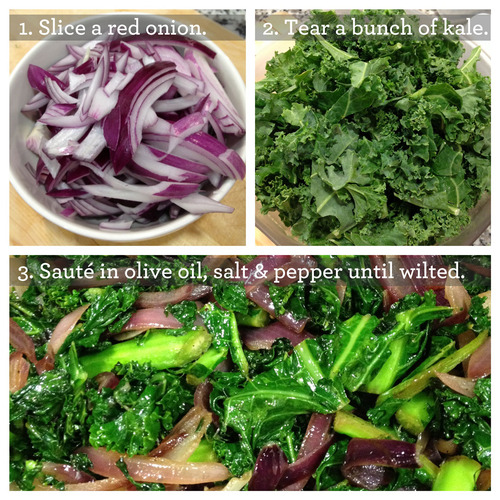 Serves: 4
Prep time: 10 minutes
Cook time: 10 minutes
Ingredients:
1 red onion
1 bunch kale
2-3 tablespoons olive oil
Kosher salt
Freshly ground black pepper
Directions:
1. Slice a red onion. Yup, just one. Slice it however you like. I choose a pretty standard width, about 1/4-inch.
2. Tear a bunch of kale. One bunch kale will do. After rinsing and patting dry, tear or chop the leaves into bite-sized chunks. You don't have to tear the leaves off the stalk, but don't use the stem ends (since they'll probably taste too bitter).
3. Saute in olive oil, salt and pepper until wilted. You'll want to slightly caramelize the red onion, so those slices can go into your large, hot saute pan first. Cook over medium-high heat with a few tablespoons olive oil and a pinch of salt and pepper until they start to turn translucent, about 4 minutes. Add the kale in batches (adding all of it at once will crowd the pan). You'll probably want to add 2-3 more pinches of salt and pepper. Cook until the kale is wilted and bright green, about 6 minutes. Serve and enjoy!
Get more healthy ideas and delicious snacks by joining NatureBox. Sign up today to get 50% off your first box!
Amanda really wants to help you cook delicious foods and sustain a healthier lifestyle. When she's not goofing around on Twitter she's probably noshing on the pile of NatureBox snacks at her desk.