Not everyone is a dessert person, especially for that morning meal. Whether you don't have a sweet tooth or just want to try something new, bake up this batch of Country Ranch Sunflower Seed Muffins!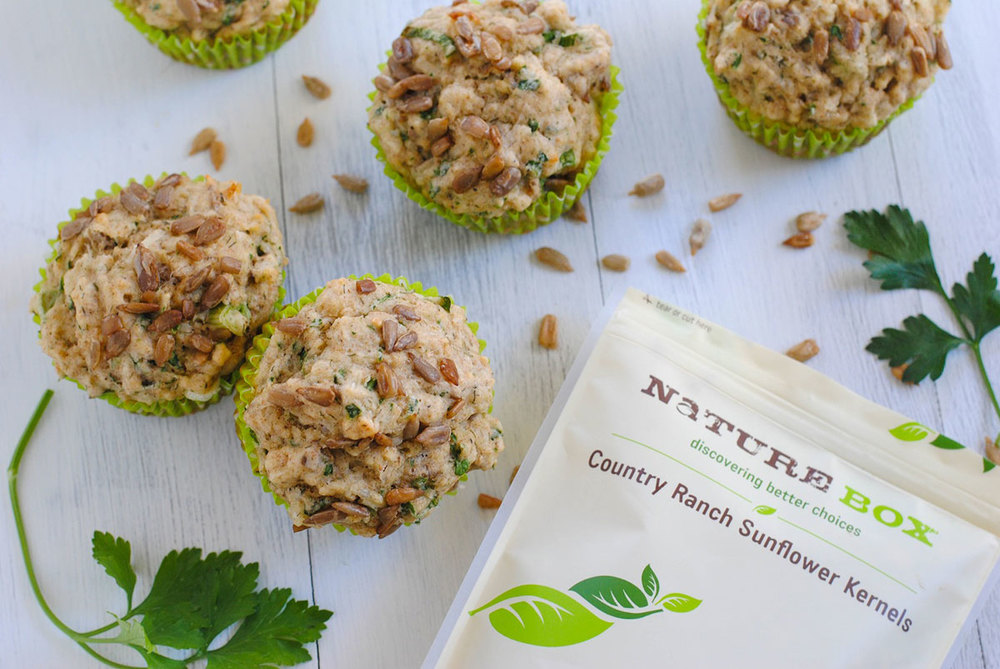 Makes: 6 muffins
Prep time: 15 minutes
Cook time: 22 minutes
Ingredients:
3/4 cup all-purpose flour
1/4 cup whole wheat flour
1 teaspoon dried onion flakes
1 teaspoon garlic powder
3/4 teaspoon dried dill
3/4 teaspoon kosher salt
1/2 teaspoon baking powder
1/4 teaspoon baking soda
1/4 teaspoon ground black pepper
1 large egg
1/2 cup milk
1/4 cup buttermilk
2-1/2 tablespoons unsalted butter, melted and cooled
1/3 cup sliced green onions
1/4 cup shredded Parmesan cheese
2 tablespoons chopped fresh parsley leaves
2 tablespoons plus 1 tablespoon NatureBox Country Ranch Sunflower Kernels, divided
6 paper muffin cup liners
Directions:
1. Preheat oven to 350 degrees F. In large bowl, whisk together all-purpose flour, whole wheat flour, onion flakes, garlic powder, dill, salt, baking powder, baking soda and black pepper. In medium bowl, whisk together egg, milk, buttermilk and butter; stir in onions, cheese, parsley and 2 tablespoons sunflower kernels.
2. With wooden spoon, stir egg mixture into flour mixture until just combined; do not overmix.
3. Line 6 standard muffin cups with liners. Evenly spoon batter into prepared cups; sprinkle muffins with remaining 1 tablespoon sunflower kernels. Bake 22 to 24 minutes or until tops are golden brown and toothpick inserted in center of muffins comes out clean. Transfer muffins from cups to wire rack. Cool 10 minutes and serve warm.
Still hungry? Check out our 7 ideas for turning snacks into meals!
Pics or it didn't happen! When you whip up this recipe, post it on Instagram or Facebook with the hashtag #natureboxrecipe so we can like and reshare it!
Get more healthy ideas and delicious snacks by joining NatureBox. Sign up today to get 50% off your first box!