Got about 25 minutes you can spare for an Asian-inspired meal? This noodle dish seasoned with rice wine vinegar and sesame oil, then garnished with green onions, sesame seeds and an egg, makes for a nice side dish or a quick meal.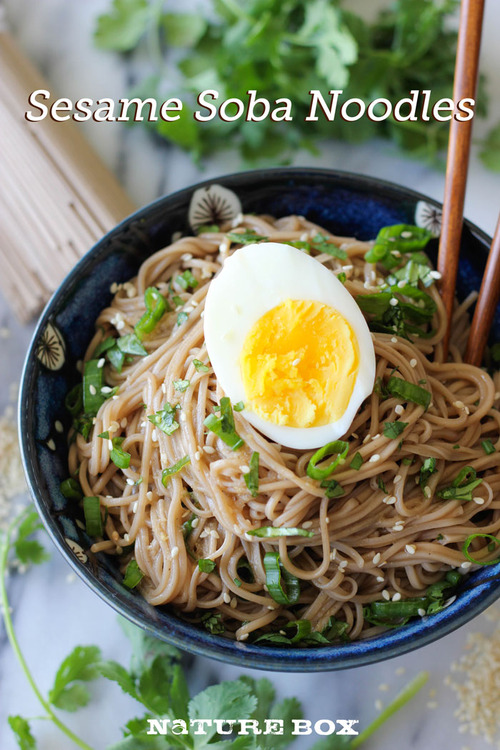 Serves: 4
Prep time: 15 minutes
Cook time: 10 minutes
Ingredients:
8 ounces soba
1/4 cup rice wine vinegar
2 tablespoons soy sauce
1 tablespoon sesame oil
1 tablespoon sugar
1 clove garlic, pressed
1 teaspoon grated ginger
2 green onions, thinly sliced
2 tablespoons chopped fresh cilantro leaves
1 teaspoon sesame seeds
2 hard boiled eggs, sliced lengthwise, for serving
Directions:
1.
In a large pot of boiling water, cook noodles according to package instructions. Rinse under cold water and drain. Set aside.
2.
Whisk together rice wine vinegar, soy sauce, sesame oil, sugar, garlic and ginger.
3.
In a large bowl, combine noodles, rice wine vinegar mixture, green onions, cilantro and sesame seeds.
Serve immediately, garnished with egg, if desired.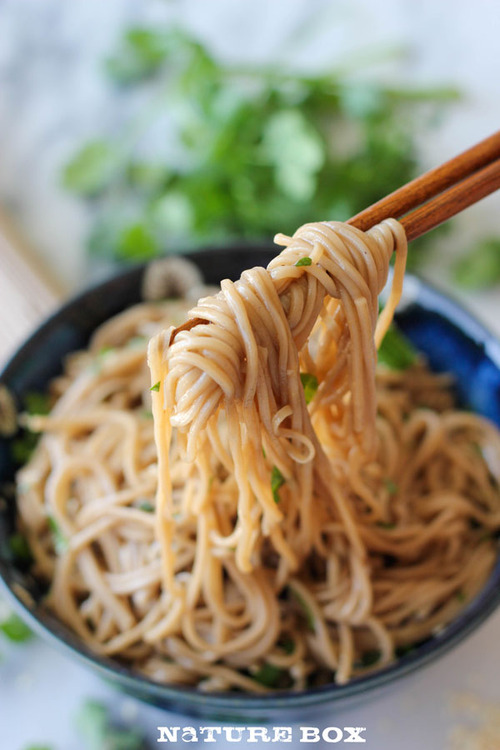 Get more healthy ideas and delicious snacks by joining NatureBox. Enter coupon code NATURE for 25% off your first month subscription!
Chung-Ah, the author behind Damn Delicious, loves to take simple ingredients and transform them into sophisticated and elegant meals.