With the many health benefits of quinoa, I love being to able to incorporate it to my meals, especially when it involves shrimp spring rolls. The quinoa is substituted for the vermicelli noodles and provides such a wonderful light, nutty flavor to these rolls. Best of all, they're so easy to make and they're so hearty and filling!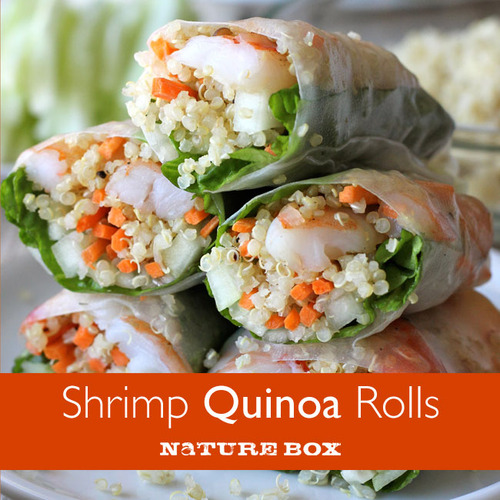 Serves: 4
Ingredients:
12 (16-cm) rice paper wrappers
Green leaf lettuce
1-1/2 cups cooked quinoa
1 cucumber, julienned
1 carrot, peeled and julienned
1 pound cooked shrimp, sliced in half lengthwise
For the spicy peanut sauce:
1/4 cup peanut butter
1/4 cup water
1 tablespoon hoisin sauce
1-2 teaspoon Sriracha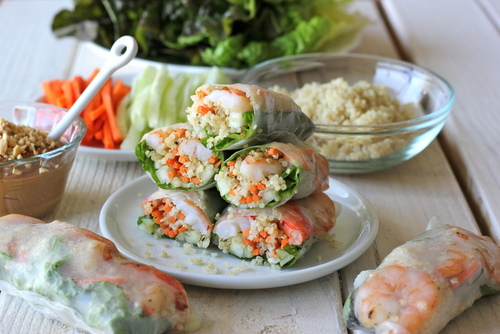 Directions:
1. To make the dipping sauce, whisk together peanut butter, water, hoisin and Sriracha in a small bowl. Set aside.
2. Working one at a time, wet rice paper for 10 seconds andtransfer to a work surface; place lettuce leaf in the center of each wrapper and top with 2 tablespoons quinoa, 3 slices of cucumber and carrot sticks each and 3 shrimp halves, cut sides down.
3. Bring the bottom edge of the wrap tightly over the filling and then folding in the sides, rolling from bottom to top until the top of the sheet is reached, being careful not to tear the rice paper. Repeat with remaining wrappers and filling. Serve immediately with spicy peanut sauce.
Pics or it didn't happen! When you whip up this recipe, post it on Instagram or Facebook with the hashtag #natureboxrecipe so we can like and reshare it!
Get more healthy ideas and delicious snacks by joining NatureBox. Sign up today to get 50% off your first box!