We just unveiled a new version of the Pantry that we hope will simplify the process of choosing snacks and planning future NatureBoxes. As always, we'd love to hear what you think about these changes, so please leave us a comment below!
Ready to get started? Just look for the "pantry" link in the top right corner. Your Pantry will slide out from the right-side as a vertical panel.

Your entire Pantry is now accessible from any page on NatureBox.com. Whether you're on the homepage, the catalog, or the Dashboard, you can always expand your Pantry by clicking that link. Click anywhere outside your Pantry to close it.
Drag-and-drop within your Pantry to arrange your snacks. Each month, we'll send you the five snacks at the top of your Pantry (plus any add-ons), so be sure to arrange your snacks accordingly.
Hover over the the the grey icons to learn what they do. When you hover over an icon like the lock or the trash can, you'll see a tip that describes what clicking that icon does.
Drag snacks over the orange "add-on" bar to receive extra snacks. You can add extra snacks to your next box for just a few dollars. Simply drag the snack over the orange bar at the bottom of your next box. When the snack background turns orange, drop the item.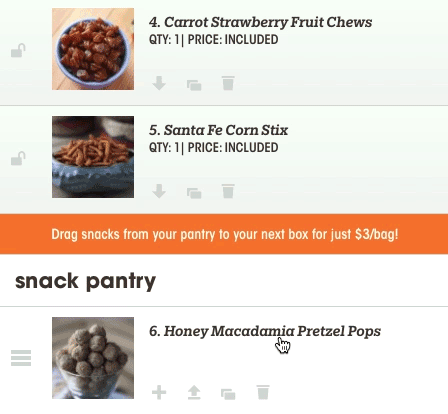 Want to see all these features in action? Check out the video below, then head over to our Snack Catalog to start using your own Pantry.