Preparing kale and quinoa has never been so easy! Try cooking up a big batch of quinoa at the beginning of the week so you can add it to your favorite salads for a protein-packed punch. Here, it was tossed with torn kale leaves, grape tomatoes, lemon juice and extra virgin olive oil.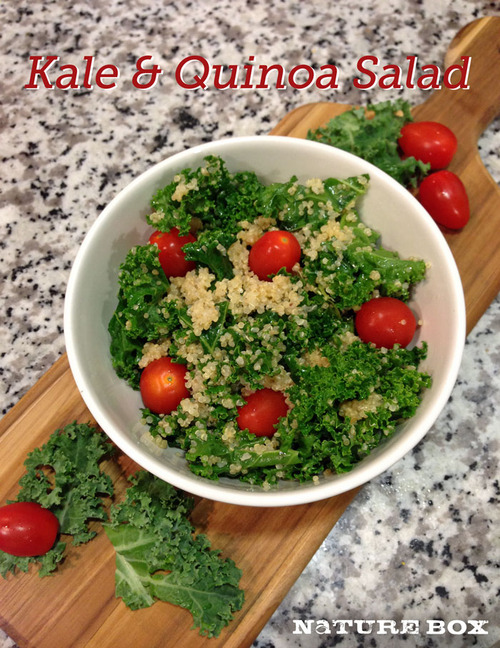 Serves: 4-6
Prep time: 5 minutes
Cook time: about 20 minutes (for the quinoa)
Ingredients:
1/2 cup quinoa
1 cup water
Juice of 1 lemon
1/3 cup extra virgin olive oil
1 bunch kale, leaves torn into bite-sized chunks
1 cup grape tomatoes
Kosher salt
Freshly ground black pepper
Directions:
1. In a small saucepan, bring 1 cup water to a boil. Add the quinoa and loosely cover until the quinoa has absorbed most of the water, about 12 minutes. Turn off heat, stir, cover and let sit about 10 minutes. Fluff with fork and set aside to cool.
2. In a large mixing or salad bowl, pour the lemon juice and extra virgin olive oil over the kale leaves and use your (clean!) hands to combine well.
3. Stir in the quinoa and grape tomatoes, and season to taste with salt and pepper. (I like adding 2 big pinches of each.)
Looking for new ways to dish up kale? Check out our kale cookbook!
Pics or it didn't happen! When you whip up this recipe, post it on Instagram or Facebook with the hashtag #natureboxrecipe so we can like and reshare it!
Get more healthy ideas and delicious snacks by joining NatureBox. Sign up today to get 50% off your first box!