Just before you take the kids out for trick or treating – or go trick or treating yourself – throw the ingredients for this vegetarian risotto recipe into a slow cooker to come back to ready-to-go dinner in just two hours!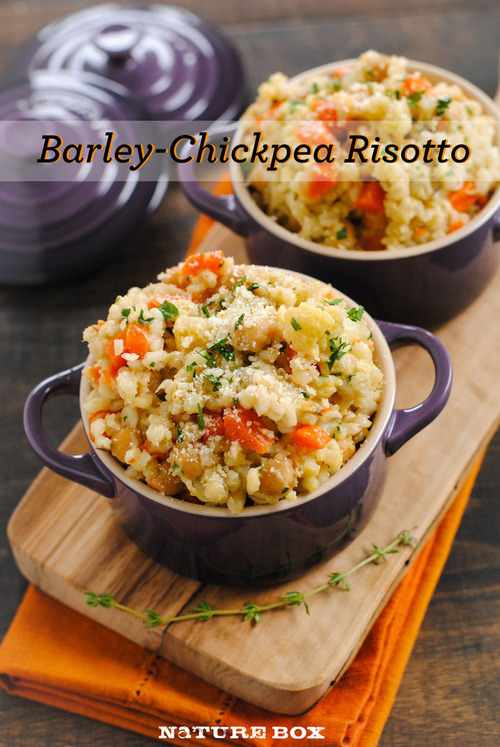 Serves: 6
Prep time: 20 minutes
Slow Cook time: 2 hours
Ingredients:
1 tablespoon extra virgin olive oil
3 carrots, peeled and chopped
3 garlic cloves, minced
1/2 head cauliflower, cut into small florets
1/2 small yellow onion, minced
4 sprigs fresh thyme
1-1/4 cups pearl barley, rinsed
1 15.5 ounce can garbanzo beans, rinsed and drained
2-1/2 cups less-sodium chicken or vegetable broth
1-1/4 cups water
1/4 teaspoon kosher salt
1/4 teaspoon ground black pepper
1-1/2 tablespoons fresh lemon juice
1/3 cup grated Parmesan cheese
3 tablespoons chopped fresh parsley
Directions:
1. Heat oil in large saucepan over medium-high heat. Add carrots, garlic, cauliflower and onion. Cook until vegetables being to soften, about 5 minutes, stirring occasionally.
2. Stir in thyme and barley; cook 2 minutes, stirring frequently.
3. Transfer mixture to slow-cooker bowl. Stir in garbanzo beans, broth, water, salt and pepper. Cook on high 2 to 2-1/2 hours or until barley is tender and most liquid is absorbed.
4. Remove and discard thyme sprigs; stir in lemon juice. Serve in warm bowls garnished with cheese and parsley.
Get more healthy ideas and delicious snacks by joining NatureBox. Sign up today to get 50% off your first box!
Lori is a Detroit-area food writer, recipe developer and restaurant reviewer. She's usually found in the kitchen cooking up something that undoubtedly involves beets, lemons or coconut for her blog, Foxes Love Lemons. Check out more of her recipes here.